Shapps promise to landlords: no more red tape
Housing Minister Grant Shapps has announced that he will be scrapping plans to introduce new regulations on private landlords.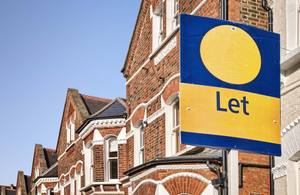 There are 1 million landlords in England - nearly 3 quarters of which are individuals who may be renting a single room out.
Of the 3 million private tenants in this country, the vast majority report they are satisfied with the service they receive from their landlords.
Speaking in Parliament, Mr Shapps confirmed that with the private rented sector already governed by a well established legal framework, the government has no plans to introduce any further regulations.
Instead, he urged councils to use the wide range of powers they already have at their disposal to tackle the minority of rogue landlords that blight some communities, provide a poor service to tenants and damage the reputation of the private rented sector.
Council powers include:
powers to require landlords to take action to rectify hazards in their property
where landlords resist, the ability to make and charge for improvements and to prohibit use of the affected parts of the property
discretionary licensing powers to tackle areas blighted by poorly managed privately rented stock
New regulations were proposed by the previous administration in response to the 'Rugg Review of the Private Rented Sector', but have been judged by the new coalition to introduce too much additional red tape. These included a National Register of Landlords, regulation of letting and managing agents, and compulsory written tenancy agreements.
Grant Shapps said:
With the vast majority of England's 3 million private tenants happy with the service they receive, I am satisfied that the current system strikes the right balance between the rights and responsibilities of tenants and landlords.

So today I make a promise to good landlords across the country: the government has no plans to create any burdensome red tape and bureaucracy, so you are able to continue providing a service to your tenants.

But for the bad landlords, I am putting councils on alert to use the range of powers already at their disposal to make sure tenants are properly protected.
Further information
Plans to increase the annual rental threshold for assured and assured shorthold tenancies from the current level of £25,000 to £100,000 will go ahead. The Statutory Instrument raising the threshold, 'The Assured Tenancies (Amendment) (England) Order 2010 - SI 2010 No. 908' was laid on 25 March and the change will come into effect on 1 October 2010. This will apply to all existing and new tenancies and will restore the position intended in the original legislation.
Published 10 June 2010