Shapps gives more power to councils to solve local problems with shared homes
Housing Minister Grant Shapps announces more power for councils to manage shared homes in their area.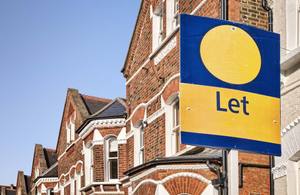 Grant Shapps is handing over more power to councils so they can manage high concentrations of shared housing in their area, without putting off landlords from renting the homes people need.
Power to tackle problem areas
Areas with lots of shared homes, known as Houses in Multiple Occupation, have often created problems for local communities. Neighbourhoods with too many properties let to short term tenants often attract crime and have problems with litter and anti social behaviour.
Mr Shapps is giving councils more flexibility so they can focus on controlling the unplanned spread of shared homes in problem areas, but avoid tying landlords in unnecessary red tape.
Changes to legislation will give councils the freedom to choose areas where landlords must submit a planning application to rent their properties to unrelated tenants - known as Houses in Multiple Occupation.
Grant Shapps said:
Local people know the local problems they face - they don't need top-down diktats from Whitehall telling them how to solve them, or indeed telling them to solve problems that don't exist in their area in the first place.

I'm not going to create unnecessary costs for landlords that could damage the rental sector and limit the number of properties available for rent, particularly when so many young people working in our towns and cities rely on sharing with friends for an affordable home. 

That's why I want to give councils the flexibility they need so they can use planning rules to control the spread of shared housing in neighbourhoods where they cause problems, without tying local landlords in red tape where shared housing causes few, if any, problems at all.
Landlord fears
The problems that arise from concentrations of Houses in Multiple Occupation are not widespread and current rules impose an unnecessary burden on landlords and councils in those areas where Houses in Multiple Occupation are not a problem. 
It also runs the risk of reducing supply if landlords choose to move out of the sector rather than face the costs and delays of applying for planning permission.
It is estimated that as many as 8,500 planning applications could be submitted each year if every landlord looking to turn their property into a House in Multiple Occupation is first required to seek permission - instead, councils will be able to focus their efforts in particular neighbourhoods where Houses in Multiple Occupation present a problem, while landlords of Houses in Multiple Occupation in other areas will not be tied up in red tape.
Published 17 June 2010