Press release
Shaping the future of rail franchising
Proposals for reforms to rail franchising released.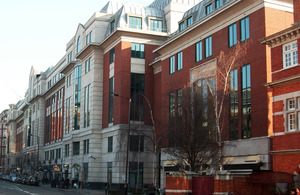 Rail franchises would be longer, more flexible and more responsive to the needs of passengers, and provide better value for taxpayers, under proposals set out today (22 July 2010) by Rail Minister, Theresa Villiers.
The proposals provide for franchises to run for 15 years as standard, so long as performance levels are maintained. In return for more private investment in the railways, operators would get greater commercial freedom to innovate in the way they deliver services. The reforms will also set tough requirements for train operators to deliver on passenger satisfaction. Operators could face being stripped of their contracts if they fail to meet those requirements.
Rail Minister, Theresa Villiers, said:
We need to reform franchising to bring in more private sector investment in order to help deliver important improvements to the railways that passengers want. I am determined that franchises should provide the best possible value for taxpayers and deliver high quality services for passengers.

The existing franchise system is too complicated, with too much micromanagement from Whitehall. This is not the best way to deliver value for money or protect passengers. We need a system that sets the private sector operators tough requirements on passenger outcomes and satisfaction, but gives them more scope for enterprise and innovation in working out the best way to deliver them.

Sir Roy McNulty's review is already studying ways of reducing the long term cost of the industry to both taxpayers and fare payers. His preliminary work will be delivered in September and will feed into our further thinking on franchise reform. We are clear that if the railways are to be made more efficient and cost effective, then early changes to the franchising system are essential.
The proposals are set out today in a public consultation which seeks views from across the rail industry, passengers and the general public on the government's approach to rail franchising and the benefits that longer franchises and increased private sector investment in the railways would be able to offer.
Currently the majority of rail franchises are let for around eight years but, under the proposals, future franchises will be offered on a basis of between 10 to 15 years and bidders will be given the opportunity to present the case for a longer contract which includes additional investment. Franchise specifications will also be designed to allow scope for operators to offer innovative solutions and bidders will be free to offer their own additional plans and options in their bid.
Other proposed changes include:
changes to the current financial risk-sharing provisions, known as 'cap and collar', which could include a link to GDP or employment levels.
making it easier for operators to invest their own money during the life of the franchise, and receiving part of the value of that investment once the franchise ends.
The outcome of the consultation will be considered alongside the emerging findings of the Rail Value for Money study, chaired by Sir Roy McNulty, and the conclusions of the Spending Review.
Department for Transport will publish its conclusions towards the end of the year and will begin re-letting franchises under a new model soon after.
Notes for editors
The consultation will remain open for 12 weeks, until Monday 18 October 2010.
It will be conducted according the government's Code of Practice on consultations
Rail media enquiries
Media enquiries 020 7944 3021
Out of hours media enquiries 020 7944 4292
Switchboard 0300 330 3000
Published 22 July 2010