Shanghai Expo UK Pavilion continues to win plaudits
Lifestyle magazine Wallpaper has named the UK Pavilion at Expo as one of the five best new public buildings in its 2011 Design Awards.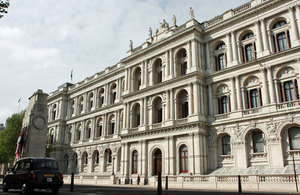 The UK Pavilion at Shanghai Expo may be in demolition phase but the innovative building is still receiving praise both in China and internationally. Its latest accolade is being named as one of the five best new public buildings in the influential Wallpaper 2011 Design Awards. The Pavilion was designed by Thomas Heatherwick, and cited first in Wallpaper's decision to name him Designer of the Year.
The UK Pavilion was nicknamed PuGongYing (dandelion) by the Chinese public, and received 45,000 visitors per day from 30 April to 31 October 2010. It won the prestigious RIBA Lubetkin Award for international architecture for its unusual and creative design, and TIME magazine named it as one of the 50 Best Inventions of 2010. Earlier this week, the sale of Cathedral seeds from the Pavilion won online auction website Taobao's top award.
To get the maximum benefit from our success at Expo, the Foreign Office is working with the British Council and UK Trade & Investment (UKTI) on legacy projects, including a publication, film and exhibition that will travel around China this year, with a particular emphasis on supporting British business in China.
Published 13 January 2011