World news story
Harare stages Shakespeare's 'Much Ado About Nothing' play
To celebrate Shakespeare's 400th anniversary, the British Embassy in Harare staged an extraordinary production of 'Much Ado About Nothing'.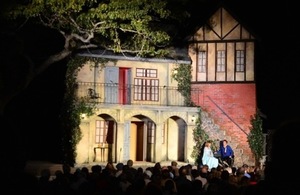 The event showcased one of Shakespeare's best works and highlighted contemporary British culture and music that was well appreciated by the largely Zimbabwean audience.
Ambassador Catriona Laing said:
In celebration of Shakespeare's 400th anniversary, I am delighted that the British Embassy in Harare was able to stage one of Shakespeare's most popular plays. We are the only Embassy in the British Foreign Office network to have done this. I was confident that this hugely ambitious project would work well in Zimbabwe because of our shared passion for Shakespeare's works. I am immensely proud of my team who worked hard to make this a success under the creative direction of Adrian Ellis.
British Embassy Harare's Political Counsellor, Adrian Ellis worked with a unique British-Zimbabwe cast that included British Embassy members of staff.
Commenting on the production Adrian Ellis said:
We decided to set the play in 1969, at the end of a decade of social, cultural and political transformation. We wanted to place Benedick and Beatrice's love story in that context, to inject the play with all colour, vibrancy and optimism of that particular moment in history. And we wanted to play some really good music. It was wonderful to see people who had never acted before, let alone in a Shakespeare play using English language that is 400 years old shine before the receptive audience.
There was broad media coverage of this event and as one national Zimbabwean newspaper put it:
What would the Bard have thought of the whole event. A mixed race crowd from across the world meeting up in 'deepest darkest' Africa, beautifully dressed, sipping mulled wine, rocking out to strange music, and laughing at … perhaps his silliest play. Doubtless he would have loved it!
Over 1800 people watched the production over three nights after tickets were sold out. The groovy play was staged on a specially constructed theatre set on the Residence gardens.
The event was made possible through generous sponsorship from Simbisa, CABS, Grant Thornton, Safeguard, Bamm Stationers, Africa Century, Shuttle Direct, SIS Inspections, PWC, SPAR, DMH, Standard Chartered Bank, Delta, Premier Auto, Ecocash, Fedex and Old Mutual and through ticket and merchandise sales.
Visit our Facebook page to see photos of the black tie premier of Much Ado About Nothing
Published 28 June 2016