World news story
Shakespeare's Globe to present Hamlet in Paraguay
The prestigious theatre company "Shakespeare's Globe presents Hamlet in one show at the Municipal Theatre of Asuncion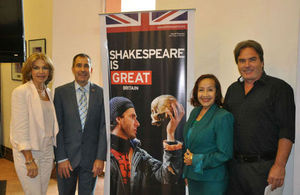 HM Ambassador Dr. Jeremy Hobbs hosted a press conference to officially announce the presentation of Hamlet by the prestigious British theatre company "Shakespeare's Globe". Paraguay is one of the more than 200 destinations that the company will visit with Hamlet as part of its Globe to Globe World tour.
The play will be presented at the Municipal Theatre of Asuncion "Ignacio A. Pane" on 20 November at 8 p.m. Ambassador Hobbs stressed that only a year after the reopening of the British Embassy in Paraguay, apart from the focus on investments and efforts to boost commercial and education relations, the Embassy are supporting cultural activities.
The press conference took place at the Cultural Centre of the Republic "El Cabildo" with the participation of Margarita Morselli, director of El Cabildo, Mrs. Margarita Irún, Director of the Municipal Theatre and in representation of the Municipality of Asuncion and Eduardo Prayones, local producer of the play.
Published 20 November 2014