Sgt Smith marks International Women's Day with a bang
To mark the centenary of International Women's Day, Sergeant Sarah Smith, from the 4th Regiment Royal Artillery, has fired the One O'Clock Gun at Edinburgh Castle.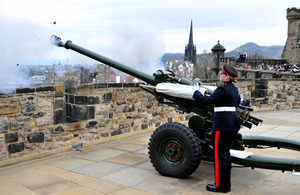 International Women's Day, today, Tuesday 8 March 2011, is a global celebration of the economic, political and social achievements of women. It also focuses on the continued plight of women and girls in parts of the world where abuses of human rights, violence, trafficking and denial of education and healthcare are prevalent experiences for many.
Sergeant Smith, aged 26, from Blyth in Northumberland, said:
It is a great honour to be selected to fire the One O'Clock Gun to celebrate the centenary of International Women's Day.
Sergeant Smith served in Afghanistan from April to September 2010 and wanted to highlight the vital role women play in the Armed Forces. She said:
For the first two months I served in one of the main operating bases, in the Nahr-e Saraj district in Helmand province, as Gun Number One [Detachment Commander], to provide fire support to soldiers on the ground.
I then spent the middle part of the tour detached from the Artillery Battery and took my detachment of soldiers to Patrol Base Wahid to support the Estonian soldiers there with protective artillery fire. Fortunately this was not required.
Published 8 March 2011