News story
Sexting and controlling behaviour highlighted in teenage relationship campaign
YouTube stars Jamal Edwards and Mandem on the Wall join new campaign aimed at boys and young men to raise awareness about sexting and controlling behaviour.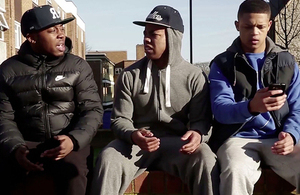 Jamal Edwards, who runs music site SBTV, and comedy trio Mandem on the Wall have produced video blogs talking about issues affecting teenage relationships.
They have been joined by Charlie McDonell and Twist and Pulse as part of the latest phase of the This is Abuse campaign aimed at reaching teenage boys.
Their video blogs discuss issues such as consent, sexting and controlling behaviour. They aim to raise awareness among teenagers about what constitutes abuse and violence in their relationships.
All the videos end with a yes or no question. The aim is to start an interactive conversation with viewers challenging harmful attitudes and highlighting clearly what constitutes abuse.
Sexting is the exchange of sexual messages or images and creating, sharing and forwarding sexually suggestive nude or nearly nude images through mobile phones and the internet.
Domestic abuse
Crime Prevention Minister Norman Baker said:
Abuse in teenage relationships does happen, but boys often do not recognise the signs.

That is why we have teamed up with these YouTube stars to get our message out there - that abuse is never acceptable. With their significant online followings they can inform teenage boys about what constitutes consent and abuse and how to recognise the signs.

Early intervention is crucial in order to prevent abuse before it starts and our This is Abuse campaign aims to prevent young people becoming victims or perpetrators of sexual violence.
Rape and sexual assault
Research shows that experience of rape and sexual assault among teenagers is widespread, both between 'partners' and within peer groups. This is Abuse aims to change attitudes early by challenging the view among teenagers that abuse in relationships is acceptable.
Operations Coordinator for Rape Crisis Fiona Elvines said:
We warmly welcome this campaign from the Home Office, particularly the use of targeted messages for young men, by young men.

Too often sexual violence prevention with young people is either de gendered or directed at changing the behaviours of girls and young women.

Evidence tells us that the way young people understand sexual consent is heavily influenced by both gender stereotypes and compulsory heterosexuality.

This means girls and boys experience pressure in different ways, with young men often using sex with young women as a way to prove themselves as men to other men. This campaign directly addresses this through opening up a conversation between young men about what sexual consent means in practice.
Behind-the-scenes
Watch exclusive behind-the-scenes interviews with Mandem on the Wall and Twist and Pulse.
Watch Nikki Sanderson, who plays Maxine in Hollyoaks, talk about relationship abuse.
Video bloggers
Published 13 March 2014