Severe electric shock to a train driver near Sutton Weaver, Cheshire
Investigation into an accident involving a train driver receiving a severe electric shock from a damaged overhead line whilst walking near his train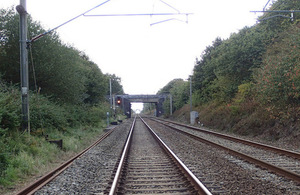 The accident occurred at about 19:00 hrs on 23 September 2014 on the line from Crewe to Liverpool. The driver was slowing his train on the approach to a signal which was displaying a red aspect when he observed a damaged section of overhead line and stopped his train before reaching it. He reported the damage to the signaller before leaving the cab of his train. Shortly afterwards the driver came close to, or made contact with, part of the damaged overhead line that was hanging down but still energised. He received a severe electric shock and was seriously injured.
As a result of the accident the electrical supply system detected a fault and breakers feeding the overhead line opened automatically, turning off the power supply. The driver was then attended to by the train manager and a doctor who was travelling on the train before the emergency services arrived.
Our investigation will consider the sequence of events and factors that may have led to the accident. This will involve consideration of the actions of those involved, the relevant rules and procedures, the design and maintenance of the overhead line equipment, and the way in which the aftermath was managed.
Our investigation is independent of any investigations by the safety authority or the railway industry. We will publish our findings, including any recommendations to improve safety, at the conclusion of our investigation. This report will be available on our website.
You can subscribe to automated emails notifying you when we publish our reports and bulletins.
Published 15 October 2014