Seven million trees to be planted as part of HS2 first phase
More than 650 hectares of new woodland will be planted between London and Birmingham as part of the first phase of HS2.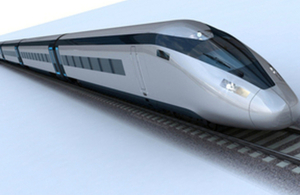 HS2 to create 650 ha of new woodland between London and Birmingham
Crowders Nurseries appointed to grow 7 million trees and shrubs
£5 million woodland fund available
More than 650 hectares of new woodland will be planted between London and Birmingham as part of the first phase of HS2, to help reduce the visual impact of the line and create valuable new wildlife habitats.
The trees will create a new series of landscape features, replace lost woodland and help to create 'green corridors' linking isolated wooded areas with new planting.
Seven million trees and shrubs will be grown in the UK by family-run Crowders Nurseries in Horncastle, Lincolnshire. Crowders, which has been in the same family for seven generations, is considered an industry leader in terms of sourcing and propagating tree seed and previously provided planting for London's Queen Elizabeth Olympic Park
The new planting will be a mix of native species tailored to each location, with a particular commitment to reintroducing species currently in decline, such as the Midlands Hawthorn and the Black Poplar, widely considered to be the UK's most endangered native tree.
HS2 Minister, Andrew Jones, said:
HS2 is doing more than any other major project to protect the environment and leave as little trace as possible. The new woodland will be managed for up to 50 years so that the trees are protected and communities will be able to enjoy the new woodlands for hundreds of years to come.

HS2 is not only cutting journey times and providing rail passengers with thousands of extra seats every day it is also delivering wider economic benefits for the whole country.

I am delighted that Crowders nurseries and the people of Lincolnshire are benefitting from HS2 and the contract to plant seven million trees along the route and I look forward to seeing the first saplings being planted.
The planting of these trees along the route of the first phase will contribute to making HS2 one of the most environmentally responsible infrastructure schemes this country has ever seen as well as one of the most ambitious ecology and woodland projects anywhere in the UK.
Robert Crowder, Managing Director of Crowders Nurseries, said:
We are thrilled to have won the HS2 contract to provide all of the trees and plant material for the London to Birmingham route. This deal constitutes the biggest ever contract in our 218 year history and I feel that it's both a great honour and an acknowledgement of the quality of our trees and management capabilities to deliver for such a huge project.
HS2 will create around 25,000 jobs during construction as well as 2,000 apprenticeships. As part of this, Crowders aims to create 13 new apprenticeships over the duration of their ten year contract, giving a skills boost to their workforce and providing new opportunities for people looking to develop their careers within the horticulture industry.
The government has also established an additional £5 million fund to create new native, broadleaf woodland, and enhance existing ancient woodland. This is on top of the package of compensation for ancient woodland lost during construction measures already in place. As part of the fund, £1 million has been made available to the Forestry Commission to support projects that will help restore, enhance and extend ancient woodland on private land or in partnership with multiple landowners. This could support projects similar to the restoration of Chalkney Wood in Essex that has successfully removed all the conifers from an ancient woodland to restore it to native species.
The Government also remains committed to planting 11 million trees over the course of this Parliament, and aspires to reach 12% woodland cover by 2060.
HS2 Ltd Environment Director, Peter Miller, said:
Our woodlands are some of Britain's most important natural habitats. That's why it is vital that we leave behind a positive legacy of high quality green spaces all along the route.

Today's announcement takes us a step closer to that goal and I look forward to working with Crowders in the years ahead to deliver what will be one of the UK's most ambitious new forestry and ecology projects.
Construction is due to begin early next year. The first batch, of around a million trees and shrubs, will be delivered to sites identified for advance planting throughout the route from autumn 2017 to spring 2018.
Press and media enquiries
The press and media enquiries line is for accredited journalists only
Published 24 December 2016