Setting up a court in Kabul: "By the time I left, the chief judge was a woman"
Based in Afghanistan, Katie worked as a project manager heading up a project to set up a court in Kabul. She tells of how women went from cooks and cleaners to lawyers and judges.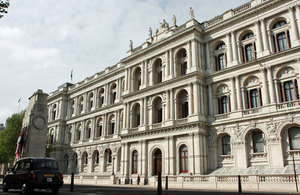 "The court did have female prosecutors and judges originally, but their role involved cooking lunch in the hallways of the headquarter buildings. One of the first things the project did was to set up a canteen so that female members of staff were relieved of cooking duties and able to take up their roles as lawyers and judges. By the time I left the chief judge was a woman."
Setting up the court, coordinating the efforts of the UK, US and Norwegian mentors, who were police officers, lawyers and judges back home, was just one of the projects that Katie worked on during her year in Afghanistan. Through one of her Afghan contacts, she set up a fund to support a small home school for girls and women who has missed out on education under the Taliban. The school's 21 pupils can now read and write:
"The home schools were set up by a lady who was illiterate when she married her husband. Once married they wanted to get her some education but then the Taliban took over and it was forbidden for girls to learn. All of the female teachers were sent home too as women were forbidden to work. But this did not faze the couple, who secretly hired some female teachers and set up an underground school for her and other women and girls who lived nearby. There are lots of stories of secret schools under the Taliban - even boys did not receive proper education and were only really taught to memorise large tracts of the Koran.
By the time the Taliban were removed, she had effectively finished secondary school and was able to go on to further education - she is now an optometrist. She has since set up home schools in her home village because, although there are government schools, her village is quite remote, and still controlled by tribal elders who do not necessarily agree with girls being educated."
Katie says the bravery of the people involved in the home schools has inspired her.
"They still receive threats because there are elements that do not agree with women being educated. But regardless they pick themselves up and carry on.
"We're now setting up a small library that all the local schools and home schools can access - because they know that what they are doing is so crucial to the future of Afghanistan."
Katie was one of over 100 civilians who were awarded the Civilian Service Medal for Afghanistan for their work on 3 May.
Published 4 May 2012