Press release
Set line led to fine
Christopher John Haystead has been fined £110 for using an illegal line to catch fish in the River Yare.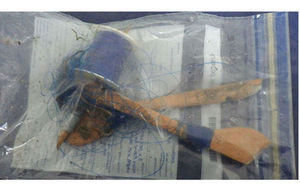 Norwich Magistrates' Court yesterday (Wed 9) heard that Haystead of Cricket Ground Road, Norwich was caught illegally fishing on 11 December last year while Environment Agency officers were out checking for set lines in the river.
Mrs Miriam Tordoff, prosecuting for the Environment Agency, told the court that at Trowse Mill they spotted Haystead crouching down where 4 lines had been staked into the bank.
He was seen pulling in the lines and a brown trout was attached to a hook on one of them. The others had bait worms on them. Haystead had 2 carrier bags and a jar of fish heads in his pocket.
He told investigating officers that he had not set the lines but had seen some people sleeping rough nearby who had been using them. He checked in the mornings and the brown trout was the first one he had considered taking.
Haystead pleaded guilty to using the prohibited fishing line, set for taking or killing trout and freshwater fish. He said he had not realised how serious an offence it was although he does have a rod licence.
Mrs Tordoff told the court:
Set lines are prohibited as fish can be left on a hook for any amount of time. Unattended lines are also a risk to other wildlife, such as swans.
She said there was also a close season for fishing of brown trout between October and March to protect fish stocks during the breeding season.
Haystead was also ordered to pay a £20 victim surcharge.
He pleaded guilty to:
On or about 11 December 2013 on the River Yare at Trowse Mill, Norwich, in the county of Norfolk, you used a prohibited instrument, namely a set-line, for the purpose of taking or killing trout and freshwater fish.
Contrary to Section 1 (1)(a)(iii) and Schedule 4 of the Salmon and Freshwater Fisheries Act 1975
Published 10 July 2014