News story
Set in stone - Lest we forget
First member of the Royal Navy to receive the Victoria Cross during World War One to be remembered in Edinburgh.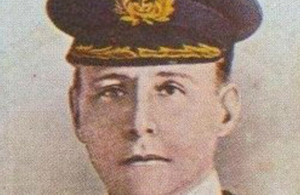 A public call for information on one of Scotland's World War One heroes was made today by the UK Government, the Royal Navy and the City of Edinburgh Council.
Commander Henry Peel Ritchie, the first member of the Royal Navy to receive the Victoria Cross during World War One was given it in recognition of his bravery in completing allied naval search and demolition operations off the east coast of Africa near Dar-es-Salaam despite being severely wounded.
A hundred years on from World War One, a commemorative stone will be laid on Friday to honour Commander Ritchie at 1 Melville Crescent, Edinburgh - the place of his birth and now the home of the Scotland Office. Among those attending will be Royal Navy personnel and veterans as well students and teachers from George Watson's College – the school which Commander Ritchie attended.
Although much is known about Commander Ritchie's bravery during conflict, little is known in the years which followed. The last trace of his family tree is from the 1958 when he died at his home Craigroyston House, Davidson's Mains, Edinburgh just after one of his 3 daughters emigrated to America. There is also no trace of Commander Ritchie's Victoria Cross medal.
Speaking ahead of the event Lord Wallace said:
Thousands of Scots are the descendants of First World War soldiers and in many households across the country people have researched their relatives history and involvement in World War One. Ahead of Friday's ceremony and 100 years on from the start of First World War it would be fitting if we could uncover more about one of Scotland's war heroes and the first member of the Royal Navy to receive the Victoria Cross during the war.

Commander Ritchie's known family tree stops in the 1950s and we also sadly do not know what has happened to his Victoria Cross medal. This is why the UK Government, the Royal Navy and Edinburgh City Council have come together to make this call for information on the missing pieces in Commander Ritchie's family tree.
Henry Peel Ritchie's VC citation read:
"For most conspicuous bravery on the 28th November 1914 when in command of the searching and demolition operations at Dar-es-Salaam East Africa Though severely wounded several times his fortitude and resolution enabled him to continue to do his duty inspiring all by his example until at his eighth wound he became unconscious The interval between his first and last severe wound was between twenty and twenty five minutes."
His Victoria Cross was presented by King George V at Buckingham Palace in April 1915.
The Lord Provost, RT Hon Donald Wilson, who is also Edinburgh's Veterans Champion, said:
100 years on from the First World War, it is crucial that Edinburgh continues to commemorate its war-time heroes. The tributes to the city's Victoria Cross recipients will be a way for new generations to learn about who these servicemen were, in an engaging and meaningful way.

I hope that it encourages residents and visitors to stop and spend a moment to learn about the sacrifices these men have made, and remember them. I am delighted that Commander Henry Richie Peel's life and story is being commemorated in this way. His medal may be lost, but at least his story won't be. His tale and his honour will live on in Edinburgh.
Captain Chris Smith RN, Naval Regional Commander for Scotland & Northern Ireland, said.
Commander Ritchie was the first Royal Navy VC Award of the First World War so it's particularly significant for us that we are able to acknowledge his bravery in a suitable and appropriate way. During the action at Dar-es-Salaam, in East Africa, he was in charge of HMS GOLIATH's steam-driven pinnace or Ship's boat as they carried out demolition operations when they came under enemy attack.

Despite being wounded himself, Commander Ritchie steered the boat to safety, through a sustained hail of enemy fire until, being hit an eighth time, he collapsed. But his boldness undoubtedly saved the lives of his crew and this was recognised through the award of the Victoria Cross.

Edinburgh has a strong connection with the Navy, and Henry Peel Ritchie as a born and bred Scot and Edinburgh native demonstrated the highest of standards and displayed unique courage in this action. So it's an honour to be able to pay tribute to that courage here, in the city which helped define the qualities that made him the man he was and I know that the Royal Navy and the City are both very happy that we are able to unveil this lasting testament to his bravery.
The event takes place on a day where honouring Scotland's World War One heroes is front and centre in Edinburgh.
Sportsman's Battalion
Straight after the tribute to Commander Peel, a ceremony outside the Usher Hall will see Edinburgh's Lord Provost mark 100 years since Sir George McCrae gave a stirring speech at the concert hall. The speech encouraged 800 men sign up to what became the 16th Battalion: The Royal Scots.
Known locally as 'McCrae's' or 'The Sportsman's' battalion, among the initial volunteers were at least 30 professional footballers from a number of clubs including, the majority of the Heart of Midlothian team. McCrae commanded the battalion through to November 1916, including at Contalmaison in the Battle of the Somme in July that year.
To remember McCrae and the men who signed up, the City of Edinburgh Council is renaming the area outside the Usher Hall 'McCrae's Place'. A street sign will be erected, and a commemorative flagstone will be unveiled in tribute to the battalion. In the evening, a tribute concert based on the soldiers' lives will be held at the Usher Hall.
Published 26 November 2014