Serving soldiers in GB Paralympics team
Three serving soldiers will be among those competing in the Paralympic Games which commence in London today.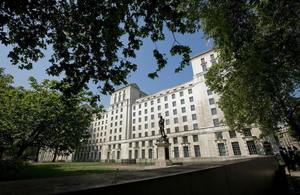 In what has been billed as the greatest and biggest Paralympic Games ever held, with 2.4 million tickets already sold, there is no doubt that the three military athletes are poised for glory as they compete in the sporting pinnacle of their lives alongside 4,200 athletes from 164 nations.
It isn't just military athletes who are involved in the Paralympics. The countdown began last night around 2145hrs when a team of military personnel past and present took part in the final leg of the Paralympic Torch Relay in Newham before reaching Stratford's Olympic Stadium, representing both the MOD's Battle Back programme and Help for Heroes, the founding partner of the programme. The Royal British Legion has also joined the programme recently, funding the Battle Back centre at Lilleshall.
Earlier in the afternoon, the iconic Flame arrived in Whitehall, where former soldiers picked by Prince Harry from the Walking With The Wounded charity carried it past Horse Guards, the Ministry of Defence's Main Building and the Cenotaph.
At the opening ceremony, after Her Majesty The Queen took her seat following a fanfare, nine servicemen and women from the Royal Navy, Army and RAF raised a large Union Flag and marched past as a choir sang the national anthem.
Service personnel who suffered terrible wounds in conflicts in Afghanistan and Iraq played a starring role, with some joining a circus stunt team of 50 aerial performers.
In a spectacular finale, triathlete Joe Townsend, a Royal Marines Commando who lost both his legs in Afghanistan, made a dramatic entrance descending on a zip-wire from the 377-foot (115m) ArcelorMittal Orbit Tower to the base of the Paralympic cauldron. Joe has competed in the Ironman UK Triathlon and has set his sights on qualifying for the 2016 Paralympic Games in Rio.
Games organisers LOCOG confirmed that some 800 tickets were given to troops and police ahead of the opening ceremony.
In total, 300 British athletes will compete in the London 2012 Paralympics. The serving military competitors who will be part of Britain's bid for a record haul of medals are as follows.
Captain Nick Beighton and Sam Scowen, Mixed Double Sculls
Making his Paralympics debut is Army officer Captain Nick Beighton of the Royal Engineers who lost both legs when he triggered a roadside bomb while serving in Afghanistan in October 2009.
Recovering in Headley Court, it's fair to say that competing in the Paralympics was the last thing on Captain Beighton's mind. Yet, thanks to superb medical treatment, he was given a chance under UK Sport's talent identification programme to do just that. His natural pre-injury height of 6 feet 7 inches (2m) had blessed him with a classic rower's build and, coupled with his fierce determination, his progress has been impressive. Earlier this year he said:
The thing is, Olympians who succeed have done so by their own effort, but people who make the Paralympics have not only done that, but dealt with life-changing injuries. I think that's inspiring.
Event: Eton Dorney Lake, Friday 31 August - Sunday 2 September.
Private Derek Derenalagi, F57 Discus
Like all Paralympians, the remarkable thing is that they are not just extraordinary athletes but have triumphed in overcoming the most daunting of obstacles that life can throw at them. Private Derenalagi, from 2nd Battalion The Mercian Regiment, is aiming for gold when he makes his Paralympic debut at London 2012, competing in the F57 Discus.
He has come a long way since he lost both his legs after he was blown up in Afghanistan in July 2007. A helicopter was called in to airlift him to a field hospital and at one stage medics feared they had lost him until they detected a barely-there pulse.
During his recovery, Private Derenalagi was drawn to Battle Back, a MOD initiative supported and funded at the time solely by Help for Heroes that rehabilitates injured troops through sport, at a talent-spotting day at Headley Court and it changed his life. He was also enrolled on the British Paralympic Association's (BPA's) Talent Transition Programme and has attended BPA preparation camps to help fulfill his potential.
Now Private Derenalagi stands on the cusp of sporting glory, having triumphed in this summer's European Championships where he won gold, but he is taking nothing for granted. Speaking last month, he said:
I watched the Paralympics in Beijing and it was fantastic. It has grown so much in four years. It doesn't just raise awareness of Paralympians but of disabled people all over the world, and I am so humbled to be a part of it.
Event: Olympic Stadium, Friday 31 August.
Lance Corporal Netra Rana, Sitting Volleyball
Lance Corporal Netra Rana, who serves with 1st Battalion The Royal Gurkha Rifles, has been training with the British sitting volleyball team since 2009 after being introduced to the sport through the Battle Back programme.
He was knocked unconscious, suffered multiple injuries and lost a leg when his vehicle was caught in an improvised explosive device blast in Afghanistan four years ago. He credits sitting volleyball with helping both his physical and emotional recovery.
Lance Corporal Rana made his international debut with the team at the 2011 Harpers International Tournament, competing against Canada. He enjoys sitting volleyball with its emphasis on strong teamwork. His proudest achievement to date was when he was voted most valuable player at the 2011 ECVD Continental Cup by players and coaches in recognition of his skills in defence.
Event: ExCel Centre, Thursday 30 August and Saturday 8 September.
Among the the other 300 British Paralympians chasing glory are RAF veteran and cyclist Jon-Allan Butterworth, who will compete in the men's individual pursuit on Friday 31 August. Jon-Allan lost an arm in Iraq while serving with the RAF five years ago but now the 26-year-old is a double world champion and world record-holder in the C5 individual time trial. He will help defend the men's team sprint on Sunday 2 September, and competes in the road races on 6 September.
In addition, former RAF technician John Robertson, backed by the RAF Benevolent Fund, will sail in the Sonar sailing class in a crew of three. Former Army Gunner Samantha Bowen will compete in the women's sitting volleyball and Charlie Wilson, a former bomb disposal officer, will compete in the men's sitting volleyball from today, 30 August.
Published 30 August 2012