Serving and former British troops are Pride of Britain
Former and serving members of the UK's Armed Forces were amongst those recognised at the Daily Mirror's Pride of Britain Awards.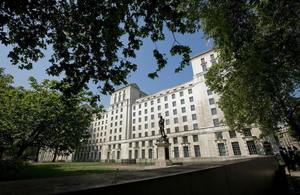 The ceremony, which is to be broadcast on national television tonight, was hosted by Carol Vorderman and attended by His Royal Highness The Prince of Wales.
The annual awards honour the courage and bravery of unsung heroes throughout the UK who have performed inspirational acts during the year.
This year the military recipients of awards were the Counter-Improvised Explosive Device Task Force in Afghanistan, bomb disposal expert Warrant Officer Class 2 Kim Hughes, and members of the RAF aircrews who flew in the Battle of Britain.
The Counter-Improvised Explosive Device Task Force, based at Camp Bastion in Helmand province, was honoured for the hazardous work they perform on a daily basis under enemy fire.
Actor Sir David Jason travelled to Afghanistan to present the Special Recognition Award to the unit which was accepted by Sapper Nath Sinclair and Sergeant Iain McCormack on behalf of the Task Force.
The presentation of the award was filmed and shown at the awards ceremony in London. Sir David said he was honoured to give the award to a 'most amazing, brave and dedicated team'. He said:
How many people would set out each day knowing that at any moment you could step on something that would blow you from here to Kingdom Come? How can we not be proud of them?
Warrant Officer Class 2 Kim Hughes was also honoured with a Special Recognition Award for an incident in August 2009 when he risked his life defusing seven bombs in a row to save wounded comrades while on operations in Afghanistan.
WO2 Hughes and his team were located in Forward Operating Base Jackson and were supporting the 2nd Battalion The Rifles Battle Group by clearing routes of improvised explosive devices. WO2 Hughes said:
There was an explosion about 100 metres to the front, then five minutes later a second explosion. We needed to clear a helicopter landing site for the casualties.
He dismantled seven of the IEDs, five of them by hand, as there wasn't enough time to place charges and retreat to a safe distance.
In true military form, WO2 Hughes does not see what he did as particularly courageous. He said:
It was my job at the end of the day and there are guys on the ground doing exactly what I did day in, day out. It's what we do, it's what we sign on for. I didn't join the Army to ride a desk, I did it to get out and get amongst it and that is what we did on the day.

I really can't stress enough that it was very much a team effort. It was never a one-man-band out there, you never go out on your own, you go out as part of a team and every one of my team members, every one of my searchers, every part of my IED team, put in as much effort as I did.
WO2 Hughes, who was presented with a George Cross earlier this year, has dedicated his Pride of Britain Award to his fellow soldiers:
I can't accept this and I would never accept this award as an individual," he said. "It was a team effort. Our high-threat IED operators out on the ground at the moment are giving it their all, not just operators, but everyone who is part of the IED or Counter-IED group.
It is nice to get the award and to be recognised for our work on the ground, but we do have guys out there doing exactly what I did and they deserve just as much recognition as we've got.
WO2 Hughes received his award from actor Dominic West and singer Myleene Klass.
Mr West said:
I'm very honoured to be able to present the award today. Kim told me that everyone in Afghanistan, every day, is under fire from the enemy and I think that says it all really, just how brave they all are out there. We should take any opportunity that we have, as civilians or grateful countrymen, to say thanks.

It's important to do and it's a privilege to be here.
The final military honour of the ceremony was presented to veterans of the Battle of Britain, who received the Lifetime Achievement Award.
Through the summer of 1940 the skies above southern England were the stage for an epic battle as British airmen fought for our very survival. The hopes of the nation rested on 2,353 young men, of which some 544 men would never return home.
Several of the men who took part in the historic battle attended the Pride of Britain ceremony to be presented with their award on stage.
90-year-old Wing Commander Tom 'Ginger' Neil flew 141 combat missions, shot down 12 enemy planes, and was still only 19 when the battle ended. He said:
I should have been killed a dozen times. As soon as the scramble order came, you'd have to get off the ground in three minutes. You're concentrating like mad, looking for the enemy as you get above the clouds. The adrenaline is racing, flak is bursting all around you, everything was exciting.
The oldest survivor of the battle, 97-year-old Flight Lieutenant William Walker, was scrambled with two other Spitfires one afternoon and soon came under attack from Messerschmitt 109s. He said:
My leader was shot down and badly burnt, my number two was killed and I got a bullet in my leg and my plane was shot to pieces. I bailed out at 20,000 feet [6,000m].
The veterans received their Lifetime Achievement Award from Prince Charles and the Duchess of Cornwall.
Published 10 November 2010