Services for personnel and veterans with mental health problems
Further funding for the Combat Stress helpline and changes to the Defence Medical Assessment Programme have recently been announced.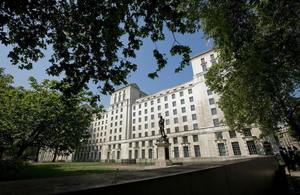 These measures, announced in the past month, are part of the concerted effort to destigmatise issues around mental health and promote awareness of the professional medical care and support available for troops.
The vast majority of Service personnel make the transition to civilian life successfully, but a small number suffer problems as a result of their service.
The National Health Service (NHS) is responsible for delivering veterans' healthcare needs, and services are available which cater specifically to veterans' mental health needs.
24-hour Combat Stress helpline
The MOD is working with Service charities, including Combat Stress, to promote awareness of veterans' issues and, last year, the Department of Health, along with Combat Stress, launched a free 24-hour helpline, run by charity Rethink, to offer support for veterans and their families.
Health Minister Simon Burns said:
Our military personnel make daily sacrifices to serve their country and help protect innocent people all over the world; it is only right that they receive the best possible care and support from the NHS.

Last year we launched a free 24-hour helpline which offers vital support for our veterans and their families.

Through working closely with Combat Stress and Rethink, this fantastic service has now taken over 5,000 calls, and I am pleased to announce that we are providing funding for a further year to continue to provide ex-Service personnel and their families with help and support whenever and wherever they need it.
The helpline is based on the principle of lifelong care and offers support to veterans of any age and at any stage in their lives. Families may also contact the helpline, both for themselves and to talk about a loved one.
It allows both groups to receive targeted support from people trained and experienced in dealing with often complex mental health needs.
Big White Wall
In addition to the Combat Stress helpline, The Department of Health and the MOD are funding a one-year wellbeing network pilot.
The 'Big White Wall', is an online social network for serving personnel, their families, veterans and the general public that allows people with mental health problems from every walk of life to engage with others who have similar problems.
The anonymity of the network allows for a free and frank exchange of experiences, with a view to generating a wider sense of support, and it is staffed by professional counselors. Mr Burns said, in the House of Commons in March:
I am pleased to say that it has had excellent take-up. Up to 1 March, 2,019 places of the original 2,400 provided in the pilot have been filled. Of those, veterans represent 40 per cent, with 38 Per cent being serving personnel and 22 per cent family members.
Get more details on the 24-hour Combat Stress helpline and the Big White Wall .
The Ministry of Defence Medical Assessment Programme
Also in March, the Minister for Defence Personnel, Welfare and Veterans, Andrew Robathan, announced that the Ministry of Defence Medical Assessment Programme (MAP) would come under the control of APHCS (Army Primary Healthcare Service) on 1 April 2012.
Currently located at St Thomas' Hospital, London, the MAP will, prior to October 2012, collocate with other Mental Health programmes based at the Reinforcements Training and Mobilisation Centre (RTMC) at Chetwynd Barracks in Chilwell, and offer a comprehensive service to reservists and veterans.
The MAP currently offers mental health assessments to ex-Service personnel who have deployed on operations since 1982 and have mental health problems related to their military service.
Mr Robathan said:
There are significant advantages in collocating the MAP with the RTMC at Chilwell.

This will provide a more structured professional environment for the MAP physician; benefits for clinical governance and flexibility from working alongside the Reserves mental healthcare service; and improved cost effectiveness from sharing the facilities already in place at Chilwell.

This move isalso expected to benefit the majority of veterans as demographic data indicates that a high percentage are being referred from the North and the Midlands.
Announcing the changes to the MAP to the House of Commons last month, Mr Robatham referred to the report 'Fighting Fit - A mental health plan for servicemen and veterans', published in October 2010 by Dr Andrew Murrison MP:
We fully support [Dr Andrew Murrison's] report's recommendation that the MAP service continues while NHS mental health services are further developed across the UK, and remain committed to doing all we can to help veterans with mental health problems related to their military service and to making improvements to the services we provide," he told the Commons.
Published 4 April 2012