Service personnel selected for GB sitting volleyball Olympic team
Three serving and ex-serving members of the UK's Armed Forces will compete in the London 2012 Paralympic Games sitting volleyball events it was announced yesterday.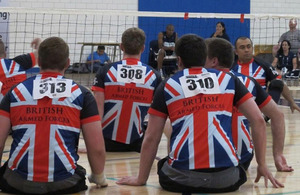 The British Paralympic Association (BPA) announced yesterday the athletes who will compete in the men's and women's sitting volleyball teams for London 2012. This will be the first time ever that Great Britain will have both men's and women's teams represented at a Paralympic Games.
The selected athletes include Lance Corporal Netra Rana, a Gurkha who was injured on patrol in Afghanistan and who has come through the MOD's Battle Back programme; Charlie Walker, who lost his legs after contracting meningitis; and Sam Bowen, a former soldier who lost a leg in a mortar attack in Iraq.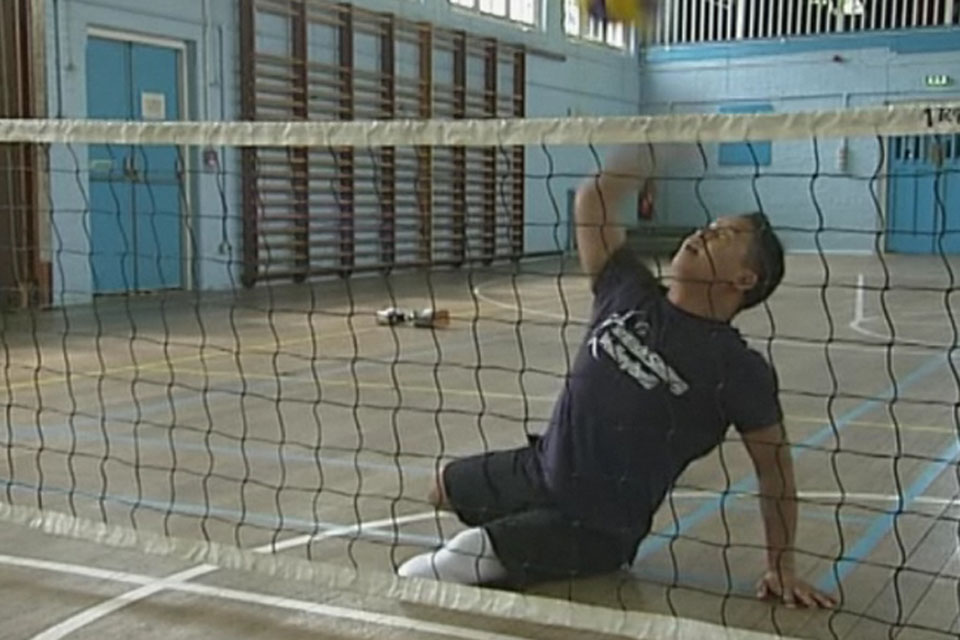 Lance Corporal Rana was knocked unconscious for two days and sustained multiple injuries when his vehicle hit an improvised explosive device south of Kandahar in Afghanistan on 21 January 2008.
When LCpl Rana regained consciousness back in the UK his left leg had been amputated below the knee and he was suffering from multiple wounds to his right leg and lower back, where two discs had fused.
LCpl Rana is able to walk for half-an-hour with the use of a prosthetic leg before his 'good' leg causes him too much pain, and has found the camaraderie of volleyball to be of great value to his rehabilitation.
He has become a valuable member of the men's team and was awarded the prize for Most Valuable Player at the 2011 Continental Cup. He said:
It has been a hard rehabilitation process for me but sitting volleyball has helped me physically and emotionally.
I am very proud to be selected into the squad and I will be honoured to take to the court in the summer with my team mates to represent Great Britain and make my country and family proud.
We cannot wait to get in front of the home crowd and show them what a great sport sitting volleyball is.
Charlie Walker left the Army after he contracted meningitis. The disease resulted in both legs being amputated below the knee.
He said:
I suppose it really is something of an irony to lose your legs in that way when you run the risk of being blown up.
I first became ill in 2006 and spent two years going in and out of hospital. My legs were in a terrible state and doctors decided that one should be amputated. Then they told me they would have to take the second.
I was devastated because I had always wanted to play rugby or some sport to the highest level.
Charlie hopes that this year's Paralympic Games will help to raise the profile of disability sports:
I think many people in this country don't know too much about sports such as sitting volleyball and the Paralympic Games. In the past there hasn't been such great interest, but hopefully now things are slowly changing.
As well as playing club matches for Surrey Sitting Volleyball Club, Charlie hopes to work in prosthetics in the future.
A former soldier with 32 Regiment Royal Artillery, Sam Bowen launched and operated state-of-the-art drones which flew above the battlefields of southern Iraq carrying out surveillance.
On 15 May 2006 she suffered severe wounds when razor-sharp shrapnel entered her right leg, which she subsequently lost, and back when militants fired more than 30 mortar rounds at her regiment's base in Al Amarah.
Prior to London 2012, only standing volleyball teams have competed for Great Britain in the Paralympics.
But the BPA has worked closely with Volleyball England to ensure that sitting volleyball met all credible performance requirements before confirming, in September 2011 for the men and March 2012 for the women, that the sport would receive home country slots at London 2012.
Yesterday's announcement confirms the athletes who will compete in those teams.
Penny Briscoe, Deputy Chef de Mission (Performance) of the Paralympics Great Britain team, said:
I am very proud of these athletes. We have always been clear that there are no free tracksuits; in order to be selected for ParalympicsGB you have to demonstrate that you have got what it takes to compete on the biggest stage in disability sport.
Five years ago there was no sitting volleyball programme in the UK, so the sport has come on hugely in the last few years.
The BPA has worked very hard with the athletes and staff on this team, including helping them identify athletes at our Paralympic potential days and providing additional support and education through our Talent Transition Programme.
It is as a result of our combined efforts that we can now announce these athletes, and I'm proud that all of our hard work has paid off.
Mayor of London, Boris Johnson, met the players yesterday at City Hall as part of the team announcement event. He said:
The ParalympicsGB sitting volleyball team has a truly inspiring line-up of athletes who demonstrate the phenomenal power that sport has in bringing people together.
As the huge demand for tickets has shown, the 2012 Paralympic Games has captured the public's imagination and I for one am really looking forward to watching the action in a few months' time.
Published 21 June 2012