Service personnel benefit from 300,000 free tickets in three years
Tickets for Troops has distributed its 300,000th free ticket just days after the scheme marked its third anniversary.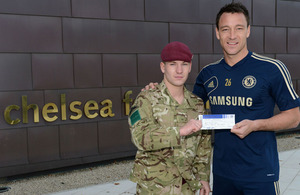 The charity, which provides free tickets to members of the Armed Forces, and those medically discharged since 2001, via their website, has had over 115,000 servicemen and women register to use the service.
Since it was launched in 2009, Tickets for Troops has been providing free tickets to Service personnel for top events across the UK, including the Brit Awards, the premiere of James Bond film 'Skyfall', FA Cup Finals, England international football matches at Wembley, the Diamond Jubilee Concert at Buckingham Palace, and the London 2012 Olympic and Paralympic Games.
Other organisations supporting the charity by donating tickets include the Premier League, the Football League, the British Horseracing Authority, the Professional Golfers' Association, Premiership Rugby, the Lawn Tennis Association, and the Rugby Football League. Many West End theatres and individual performers such as Rod Stewart and Sir Elton John, and comedians John Bishop and Michael McIntyre, have also given thousands of tickets.
Ross Barden, Director of Operations at Tickets for Troops, said:
We are delighted to have reached this magnificent milestone in such a short period of time. On behalf of everyone at Tickets for Troops I must thank all the organisations, clubs, venues and individuals that have got behind the charity and supported the men and women of our Armed Forces with such generosity and pride; this achievement would not have been possible without you.
Private Tom Harding, from 3rd Battalion The Parachute Regiment and a lifelong Chelsea fan, was allocated the 300,000th milestone ticket for Chelsea v Manchester City at Stamford Bridge yesterday.
As part of the celebrations, Private Harding was invited by Chelsea Football Club (FC) to meet club captain John Terry at their Cobham training ground in Surrey. John Terry presented Private Harding with the 300,000 ticket for the weekend's game, which included access for him and a guest to the Executive Lounge at Stamford Bridge.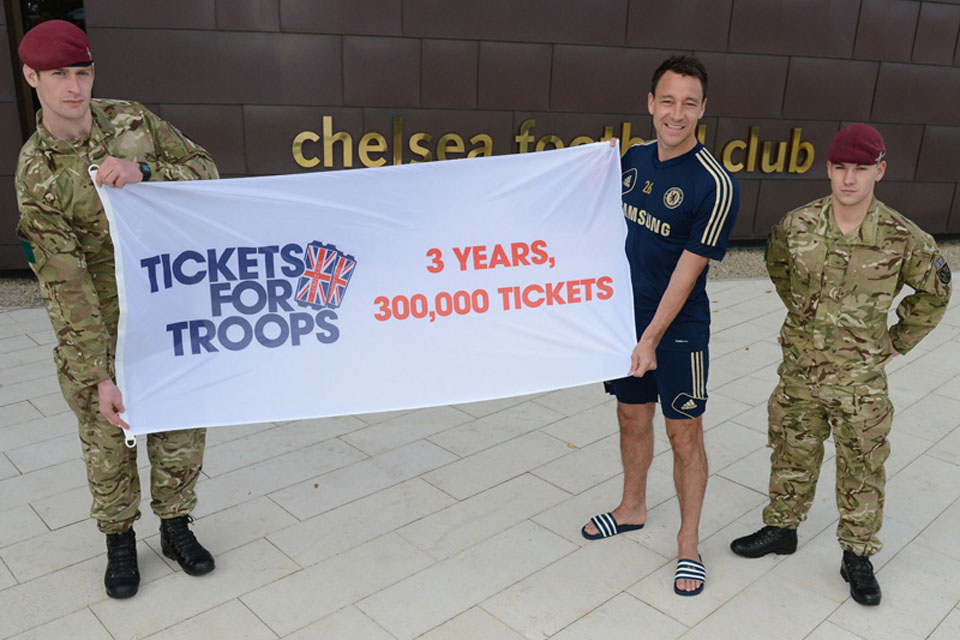 Chelsea FC was a founder supporter of Tickets for Troops and has donated 50 tickets for every home fixture since the charity was set up in 2009.
Private Harding served on Op HERRICK 13 as a light machine gunner and since his return to the UK has been part of the Airborne Task Force. He also plays football for his battalion, the infantry and the Army Under-23 football team. He said:
I can't believe it. I've been a Chelsea fan all my life but often find it difficult to attend games because of the nature of my job. I never expected in a million years that I would get to meet the captain at the training ground, let alone in the same week have the opportunity and privilege to watch Chelsea take on Manchester City from the Stamford Bridge Executive Lounge.

I can't thank Tickets for Troops and Chelsea enough for this once-in-a-lifetime opportunity. Tickets for Troops does such a fantastic job in keeping spirits high amongst all the Armed Forces and I hope they can continue to operate for many years to come.
John Terry, who is a Tickets for Troops patron, said:
It's an honour to have met Tom and I'm delighted to have been able to present him with the 300,000th ticket on behalf of Tickets for Troops.

Tom and his colleagues in the forces are real heroes and I and everyone at the club have nothing but respect for the sacrifices they make on behalf of our country.

It is wonderful that so many organisations have supported this incredible scheme and such a substantial number of tickets have been donated.
Tickets for Troops Chairman, Lord Marland, said:
It is constantly humbling to see the waves of organisations generously supporting Tickets for Troops and ultimately showing their appreciation to the servicemen and women who work so tirelessly to protect our freedom.

We have seen first-hand what these tickets mean to troops and it is clear that Tickets for Troops is making a huge difference in boosting morale. It is a pleasure and an honour to be able to help reward these extraordinary, courageous and brave people for all their hard work and sacrifices.
Published 26 November 2012