Service personnel awarded for outstanding gallantry
The National Army Museum in Chelsea hosted the latest Operational Honours and Awards ceremony (List Number 39) yesterday, where 21 of the 106 servicemen and women being honoured were praised by the Adjutant General, Lieutenant General Gerald Berragan.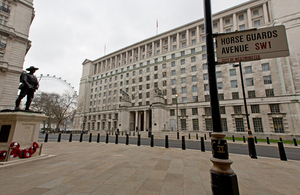 General Berragan said that it was an honour to recognise those receiving the awards and paid tribute to the servicemen and women in Afghanistan who faced mortal danger every day and that thanks to their efforts and the activities that they carried out in the face of a clever and determined enemy, the evidence showed that the insurgents were losing heart.
He said that although just a small fraction of those receiving honours were there, he paid tribute to all of them and pointed out that despite the fact that the presentations were being hosted in the National Army Museum, the list very much reflected the efforts and sacrifices being made across the three Services.
General Berragan also paid tribute to those Service personnel who had given their lives during the tour. He praised the success of the tour and said:
20 Brigade's tour had been notable for the transition to Afghan lead for security across Helmand province. Lashkar Gah, the provincial capital, was handed over to Afghan security forces control, and the district of Nad 'Ali moved to Afghan control earlier than expected.
Brigadier Patrick Sanders, Commander of 20th Armoured Brigade and Task Force Helmand during Operation HERRICK 15, paid tribute to the fighting spirit of the UK Armed Forces and said that the other part of the success story was the part played by the Afghan National Security Forces:
Every day we have thousands of interactions with them, and we are impressed by their patriotism and valour. They are colourful and sometimes difficult to deal with, but they are extraordinary and without doubt part of the reason that the Taliban have been pushed out of areas that were critical to them and into areas that don't matter.
We trusted our Afghan colleagues and have been impressed by how they have taken the lead in establishing security.
Brigadier Sanders then added that:
The Operational Awards List is a reminder that the people present here today are distinguished, separate from the ordinary, the best of a generation.
The full Operational Honours and Awards List has been published today - see Related News.
Amongst the gallant Service personnel being recognised is a young Royal Engineer who displayed coolness and selfless courage whilst clearing an IED-infested area of Afghanistan's Helmand province.
Sapper Matthew Garey of 39 Engineer Regiment, who is to recieve the Queen's Gallantry Medal, remained calm whilst carrying out his clearing duties which allowed a bridge to be constructed that has since improved local conditions.
During attempts to build the bridge, aimed at increasing security and improving commerce in the local area, a number of IEDs had been detonated, injuring a number of searchers and preventing progress from being made. Four previous attempts had been made before Sapper Garey's unit was deployed to clear the area.
For five mentally and physically exhausting hours, Sapper Garey purposefully placed himself in harm's way, negotiating a myriad of channelled areas which were prime locations for IEDs to be present.
Without dwelling on his personal safety, the 24-year-old searched painstakingly, often with no more than his fingertips, for the slightest sign of an IED ahead of his team. Finding a deeply-buried command wire in his path provided the final piece of the jigsaw that told the story of a complex, multiple-lED attack, planned to hinder progress and prevent freedom of movement along the route.
But this was just one episode in a six-month tour spent searching for improvised explosive devices in difficult and dangerous circumstances. Throughout his tour Sapper Garey showed awe-inspiring courage and his conduct was extraordinary, personifying his astonishing and exemplary level of gallantry.
Also amongst those being recognised is Corporal Sean Jones, who took decisive action when faced with a well-organised insurgent ambush. Leading a bayonet charge, the 25-year-old seized the initiative back from the enemy and pushed them into retreat.
Corporal Jones, from 1st Battalion The Princess of Wales's Royal Regiment, deployed to Afghanistan in October 2011 as an Acting Corporal and on the day in question he had deployed to a village as second-in-command of a small patrol.
Its mission was to draw out insurgents who had been intimidating the local population and enforcing a curfew, enabling them to plant IEDs aimed at killing local Afghans and coalition troops.
As the patrol moved north through an open field, it was engaged with accurate and heavy small arms fire simultaneously from the north and east.
Corporal Jones rapidly confirmed the location of the enemy positions and calmly directed fire onto them, but his team had lost the initiative as the insurgents fixed the patrol with fire from the north and moved to outflank and overwhelm them.
First engaging one of the insurgent positions with a 66mm rocket, quick-thinking Corporal Jones recovered the situation by ordering his men to fix bayonets, then, breaking cover, led them across 80 metres of open ground.
He directed two men to provide fire support before preparing a hand grenade for the final assault; the speed, aggression and audacity of his attack forcing the insurgents to fall back in disarray.
Corporal Jones has been awarded the Military Cross for unflinching courage and extraordinary leadership in the face of extreme and tangible danger. He epitomised the best qualities of the British infantry, displaying gritty determination, controlled aggression, tactical cunning and complete disregard for his own safety.
Sapper Garey and Corporal Jones' honours are just two of more than 100 awards for gallantry and meritorious service included in Operational Awards List 39, which covers the period between 1 October 2011 and 31 March 2012.
Many of those recognised served with 20th Armoured Brigade, which deployed to Afghanistan in September 2011, but awards also go to others involved in operations in Afghanistan, elsewhere overseas and in the UK.
The majority of award recipients are Army personnel but the Royal Navy and Royal Air Force are also represented. For example, Flight Sergeant Niall Hanson, a Royal Air Force Search and Rescue winchman, is honoured for his actions in the recovery of a kayaker trapped in treacherous white water in the UK.
The Secretary of State for Defence, Philip Hammond, said:
The awards announced today show the UK's Armed Forces at their most excellent.

The circumstances in which they were earned and the levels of gallantry recognised are, in many cases, difficult to comprehend. Quite rightly, Britain is a country which holds its Armed Forces in the highest regard and these awards can only go to reinforce that sense of pride.
Published 28 September 2012