Service personnel at Bovington Camp get improved accommodation
The new accommodation block, built by Defence Estates with industry partner Debut Services Limited, provides 99 Senior Non-Commissioned Officer…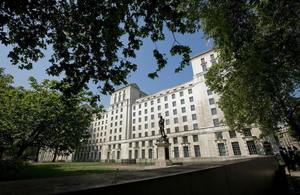 The new accommodation block, built by Defence Estates with industry partner Debut Services Limited, provides 99 Senior Non-Commissioned Officer bedspaces and was built under Project SLAM (Single Living Accommodation Modernisation), which is working to improve single living accommodation for all three Services.
The new block was officially opened by Brigadier Simon Levey ADC, Director Royal Armoured Corps.
Senior Non Commissioned Officers of the Armour Centre - the Army's centre of excellence for armoured warfare individual training which is based at Allenby and Stanley Barracks at Bovington - are already enjoying the benefits of their new living space.
Speaking about his new accommodation, WO2 Marc Davies, Armour Centre Bowman Systems Manager, said:
The new SLAM accommodation has been a great improvement on the previous mixture of both SLAM and pre-SLAM type rooms occupied by the Warrant Officers' and Sergeants' Mess.

Improvements to our living space go a long way to enhancing our quality of life, and indeed show commitment to promises that the standard of accommodation for Service personnel will be increased.

Practically, the increased size of the room and storage facilities is a massive improvement. All rooms are finished to a fantastic specification; the provision of telephone lines and Sky TV terminals is welcomed. Coupled with the furniture and 'white goods' there is little more a resident would require.
Commenting on the improvement in living conditions for soldiers at Bovington, Lt Col John Walker MBE, Headquarters Armour Centre said:
The addition of the SLAM blocks is a major part of the long modernisation required to ensure continued training delivery at Bovington. It has been a long journey to the extremely smart and well appointed SLAM blocks from the previously inhabited old Sandhurst Blocks and the cramped and spartan Warrant Officers' and Senior NCOs' accommodation blocks.
The new accommodation block was recently officially opened by Brigadier Simon Levey ADC, Director Royal Armoured Corps. L-R: Jon Wood Debut Services Ltd Site Manager, Brigadier Simon Levey (Director Royal Armoured Corps), WO1 David Henretty (GSM Bovington)
The accommodation block has been built in line with sustainability principles and incorporates a rainwater harvesting system, which uses underground storage tanks from which the recycled water is used for toilet flushing. Howard Sims, Defence Estates Project Manager said:
The project was delivered on time and to cost and provides top quality living accommodation for the SNCOs at Bovington. The standard of the finished building and external areas is a credit to the project team.
Published 11 October 2010