Service Personnel and Veterans Agency wins industry awards
The Ministry of Defence's Service Personnel and Veterans Agency (SPVA) has won two industry awards for its management of the UK forces' Joint Personnel Administration (JPA) system.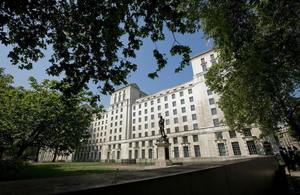 At the Shared Services & Outsourcing Network (SSON) 2010 Industry Awards, held in Edinburgh on 25 May, SPVA won the award for 'Best Mature Outsourced Services Delivery' for its management of the UK forces' Joint Personnel Administration system as well as winning the 'Winner of Winners' award.
These awards recognise the success of the outsourcing relationship within SPVA between the Ministry of Defence and HP Enterprise Services that started in November 1997, and the successful introduction of JPA from 2006.
JPA has revolutionised personnel and HR services for the UK Armed Forces, bringing together the Navy, Army and RAF onto one system, allowing users to update details themselves and providing one dedicated contact point for help and support.
In making the awards, judges from top European companies remarked that SPVA 'demonstrated a leading ability to deliver change' and had a 'relentless focus on technological development'.
They were also impressed by the £130m savings delivered to date and the 'impressively strong' relationship with HP in delivering agency services.
Receiving the award on behalf of the agency, SPVA Chief Executive Kathy Barnes said:
These awards are recognition for everyone in the agency - MOD civil servants, military personnel and HP staff. They are also about our customers - the UK's Armed Forces personnel, veterans and their dependants, and the way we have all adapted and worked together over the last few years.
They reflect the success of our partnering relationship with HP and reinforce the value of our internal 'One Agency, One Team' approach to working across different teams, sites and organisations.
HP SPVA Account Manager Paul Couch was thrilled with the awards and said:
I joined the account in 2007 and have been delighted at the way the outsourcing partnering relationship has worked within SPVA and what has been achieved.
These awards reflect the dedication and commitment of the people in the agency and the way we all work together. They reinforce our joint focus on the quality of service that we provide to our end customers, our partnering approach and a relationship built on openness, honesty, trust and a joint way of working across SPVA between individuals and teams at all levels.
The Service Personnel and Veterans Agency is an agency of the Ministry of Defence and provides essential support functions to the Armed Forces and veterans communities. These include Forces pay and HR, issue of all medals, casualty repatriation and compassionate services, pensions, injury/bereavement compensation and veterans welfare support.
The agency operates from four main UK sites at Glasgow, Norcross near Blackpool, Imjin Barracks near Gloucester and HMS Sultan, Gosport.
Published 2 June 2010