Service charities the best way to support HM Forces this Christmas
With 50 days to go until Christmas the Ministry of Defence is urging the public to consider Service charities as an alternative way of showing their support, rather than sending unsolicited parcels to personnel serving abroad.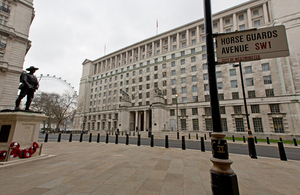 Every year the British Forces Post Office (BFPO) is overwhelmed by the generosity of the public who send individuals, and groups, boxes of treats in operational theatres. But while this kindness and generosity is greatly appreciated, it unintentionally causes a delay in personnel receiving the mail that counts the most - that from friends and family.
As the volume of post builds up in the run-up to Christmas, management and staff at British Forces Post Office (London), based at RAF Northolt in Middlesex, wish to highlight the unintended consequences of the public's generosity - the mountains of well-intentioned mail that cause genuine difficulties for those charged with its delivery.
Head of the BFPO, Colonel Stephen Heron, said:
The British Forces Post Office has a worldwide network and at this time of year all at BFPO are focused on the particular challenges of getting personal mail through at Christmas. This is particularly important for Service personnel deployed on operations, not least because of the difficulties in reaching individuals in some very inaccessible locations.

Whilst the sentiment behind the public wishing to send welfare parcels is gratefully acknowledged, it is far better that they donate to established Service charities as they can focus support directly to areas of greatest need.
The volume of mail arriving at Camp Bastion, the main British base in Afghanistan's Helmand province, for onward distribution, causes three main problems:
• private mail sent to deployed personnel by their loved ones can become significantly delayed amongst all the other items from members of the public. Receipt of letters or gifts from a parent or spouse is very important for morale in theatre and for the peace of mind of families back home. The delays unsolicited mail inevitably cause to the delivery of the much more anticipated personal mail can create real disappointment and stress.
• the onward delivery of goodwill parcels to forward operating bases necessitates additional resupply flights and convoys which places Service personnel at additional risk in what is already a difficult and dangerous operating environment. Every time an additional convoy is laid on, more troops are put at risk of enemy attack.
• the type of items included in many unsolicited mail parcels are either readily available in theatre or are simply not appropriate for the Afghan environment. Not only does this mean that the items go to waste, but time and resources have to be diverted from crucial operations to organise their disposal.
In addition, the charity uk4u Thanks! will, for the ninth year, deliver a Christmas Box of practical gifts and treats to every soldier, sailor and airman deployed overseas - in Afghanistan and elsewhere - and to those in hospital and recovery centres in time for 25 December.
Its parcels are delivered via the supply chain, meaning there is no impact on the mail network. Although the charity benefits from corporate sponsorship, it also needs donations from the public to continue its work bringing Christmas cheer to thousands of personnel. For more details visit their website at Related Links.
This year uk4u Thanks! is sending 22,500 Christmas Boxes to personnel serving around the world. One of the charity's trustees, Sally Little, said:
uk4u Thanks! is very grateful for all the support we receive. Sponsorship and donations enable us to fund our Christmas Box campaign, with everyone serving overseas on operations away from their families, not just in Afghanistan, as well as servicemen and women in hospital as a result of operational injury, receiving a box of presents and treats on Christmas Day.

We make sure everyone receives their box, and it means a great deal to our servicemen and women knowing the public are thinking of them at this special time.
There are many other ways in which people in the UK can thank Armed Forces personnel deployed overseas for their work and commitment. Helpful advice and a list of recommended Service charities, which accept public donations to assist deployed personnel and their families back at home, can be found on the Ministry of Defence website (see Related Links).
Although the MOD provides a comprehensive Deployed Welfare Package which includes a free mail service for families and friends, 30 minutes of telephone calls a week and internet access, there are still areas where life in an operational theatre can be improved over and above that.
With this in mind, and in order to enable members of the public to make a contribution to the welfare of personnel in an appropriate way, the MOD Operations Welfare Fund was established. Priority for spending from the fund is set by commanders in theatre for those items which have the most impact on enhancing the morale of their personnel, and any money donated to this fund enables commanding officers on the ground to bid for items which their men and women have asked for. Examples of items purchased through the fund are Wii handsets, portable DVD players, games and table tennis tables.
Anyone wishing to make a donation can send a cheque to:
Operations Welfare Fund
J1 Operation HERRICK
PJHQ, Sandy Lane
Northwood, Middlesex
HA6 3HP
Published 5 November 2012