Serious accident at Clapham South tube station, 12 March 2015
Passenger fell between a train and the platform, after being dragged for a short distance by a train departing from Clapham South station.
This news article was withdrawn on
This item has been moved to the National Archives as RAIB has published its report describing this accident. See Report 04/2016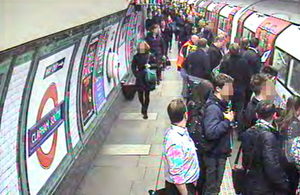 The accident occurred on the northbound Northern Line platform at around 08:00 hrs on Thursday 12 March 2015. The train had stopped normally in the platform and passengers had alighted and boarded. A member of staff on the platform who was acting in the role of station assistant (train services) signalled to the train operator to commence the door close procedure. Shortly afterwards, the train operator started to close the train's doors. Before the doors fully closed, one set was obstructed and the doors reopened. A passenger who had just boarded, and found that the available standing space was uncomfortable, decided to step back off the train, onto the platform, in order to catch the following train. As the doors reclosed, the edge of this passenger's coat became trapped between the door leaves.
The train operator, who was unaware of the situation, started to drive the train into the tunnel and the passenger was dragged along the platform by her coat. While checking the platform camera view displayed in his cab, the train operator saw passengers stepping aside and a person moving with the train, and applied the train brakes. However, before the train came to a stop, the passenger fell to the ground, off the platform edge and into the gap between the 4th and 5th carriages, having become separated from her coat. The train stopped after travelling about 60 metres. The passenger suffered serious injuries to her arm and head, and was taken to hospital; she is now recovering. The RAIB's investigation will seek to understand the sequence of events and will review the arrangements in place for safe dispatch of trains from London Underground stations and the risk arising from items becoming trapped in London Underground train doors.
RAIB's investigation is independent of any investigations by the railway industry or safety authority.
We will publish our findings at the conclusion of the investigation. This report will be available on our website.
You can subscribe to automated emails notifying you when we publish our reports and bulletins.
Published 26 March 2015