Press release
Senior Transport Commissioner launches consultation on regulation of professional drivers
Industry regulator seeks views on revised guidance and directions.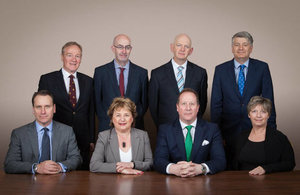 The Senior Traffic Commissioner for Great Britain, Beverley Bell, has today (13 July 2015) launched a consultation on the regulation of professional drivers.
The 8 week consultation invites views on proposed revisions to the statutory document on vocational driver conduct. The document was first issued in 2011.
The consultation also forms part of the traffic commissioners' key strategic objectives for 2014 to 2015 to review and modernise the regulation of lorry, bus and coach drivers.
Launching the consultation, Mrs Bell said:
Professional drivers carry out the frequently challenging work of transporting goods or passengers across Great Britain and on the continent.

This consultation is a key part of our work around the regulation of those drivers. I therefore encourage the commercial vehicle industry, stakeholders, safety groups and other interested parties to respond and help inform how traffic commissioners deal with the conduct of professional drivers.
The consultation focuses on a number of areas including consistent decision-making, serious offending and informing professional drivers of standards.
Published 13 July 2015