Press release
Senior traffic commissioner retires
Senior Traffic Commissioner, Philip Brown, to retire.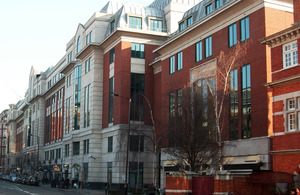 The Senior Traffic Commissioner and the Traffic Commissioner for the South Eastern and Metropolitan Traffic Area, Philip Brown, will be retiring with effect from the 24th October.
Philip Brown is currently on special leave and Beverley Bell is acting as Deputy Senior Traffic Commissioner. Beverley Bell will continue in this role pending the appointment of the next Senior Traffic Commissioner. The department has arrangements in place to ensure traffic commissioner duties are fulfilled in the South East until a new full-time Commissioner is recruited.
Notes to editors
The traffic commissioners are appointed by the Secretary of State for Transport as statutorily independent licensing authorities responsible for bus, coach and goods vehicle operators and for local bus service registrations. They can also take disciplinary action against the licence of bus, coach and lorry drivers who commit road and certain other offences.
The role of senior traffic commissioner gives the post-holder important responsibilities to determine how the traffic commissioners perform their statutory functions. For example: * determining which statutory functions each traffic commissioner works on. This could allow traffic commissioners to specialise in particular areas - for example, goods vehicle operator licensing or local bus service registrations; * issuing general directions and guidance to the traffic commissioners and deputy traffic commissioners. Directions cover administrative matters such as how to apply for an operators' licence. Guidance covers judicial matters such as how to interpret legislation.
The policy and legislation on local bus service registrations are devolved in Scotland. The powers of the senior traffic commissioner do not extend to bus service registrations in Scotland.
Press enquiries: 020 7944 3066
Out of hours: 020 7944 4292
Public enquiries: 0300 330 3000