World news story
Senior military officers visited Vienam
A delegation of 17 Generals and Senior Colonels from 12 nations from the Royal College of Defence Studies of the United Kingdom conducted a study tour of Vietnam from 13 – 20 June.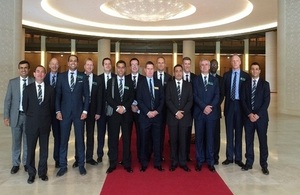 The Royal College of Defence Studies was established in London in 1927, and is the most senior strategic level Masters' Degree Course run by the UK Ministry of Defence. At RCDS, military officers and senior government and defence officials from all over the world study International Relations and Security, focusing on the themes of security, stability, and prosperity at the grand strategic level, and seeking to develop a capacity for strategic thinking in those who will be the policy and strategy makers of tomorrow, or their senior advisors. Last year, a Senior Colonel from the Vietnamese People's Army joined the year-long degree programme for the first time in a decade, and as part of an expanding bilateral training programme between the two Defence Ministries which reflects the strengthening Defence relationship between the two countries, the UK is set to invite more Vietnamese officers in the coming years.
Visiting Japan, China, and Vietnam, the 3-week tour is designed to enable the officers to examine, at first hand, and from a strategic perspective, the current position and future prospects for the preservation and enhancement of security, stability, and prosperity of the region in general and the nations visited in particular. Led by Major General Sandy Storrie, and comprising officers from Albania, Colombia, Egypt, Israel, Kenya, Kuwait, Macedonia, the Kingdom of the Netherlands, the Sultanate of Oman, Pakistan, the UK, and the USA, this year's delegation was the most senior military delegation to visit Vietnam from the UK since the establishment of a resident Defence Attaché Office in Hanoi in 2013, and the first time RCDS had visited Vietnam since 2012.
During 8 days in Vietnam they travelled to Hanoi, Can Tho, and Ho Chi Minh City. While in the capital they held senior level meetings with, among others, the Communist Party of Vietnam, the National Assembly, the Ministry of Public Security, and the Ministry of Foreign Affairs. In Can Tho they were received by the People's Committee before exploring the various water security challenges of the Mekong Delta, before continuing the water management theme in Ho Chi Minh City, along with examining the business development there, including appreciating the city from the skydeck of the impressive Bitexco Tower.
Please see the interview of Major General Sandy Storrie and Defence Attache, Group Captain Tim Below with the Vietnam Television.