Senior Foreign Office minister Baroness Warsi arrives in Pakistan
UK Senior Foreign Office Minister Baroness Warsi, has this morning arrived in Pakistan for her second visit in three months.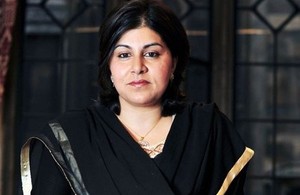 The Minister is accompanied by a delegation of British businesses from across the energy, education and retail sectors.
During her visit to Pakistan, Baroness Warsi and the trade delegation will meet with senior ministers and other officials to take forward discussions held under a new target of increasing bilateral trade to £3 billion by 2015, pledged during the UK Prime Minister David Cameron's visit to Pakistan in June this year.
Recognising the importance of boosting economic and trade ties between the UK and Pakistan as part of this dialogue, Baroness Warsi will also hold meetings with the Pakistani business community.
Ends
Contact: British High Commission, Islamabad; tel. 0300 500 5306
Published 3 October 2013