News story
Senior Embassy representatives in Lublin
Iain Stewart (Head, Policy Delivery Group) and Martin Oxley (Director, Trade and Investment) visited Lublin on 12 March.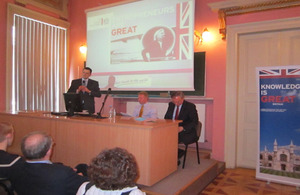 The purpose of the visit was to deepen contacts in the city, with a view to promoting UK prosperity interests in this up and coming region.
One of the highlights was a presentation on the "UK and Europe" which Iain and Martin delivered to around 200 students at Maria Curie-Skłodowska University. There was a lively discussion with the students on the depth of current UK-Poland co-operation on a range of issues; the impact of the Polish diaspora in the UK; the UK's vision of the future of Europe; and what the Embassy is doing to promote UK business in Poland.
Iain and Martin also visited the British Studies Centre at the University, and saw at first hand the positive role which the centre is playing to promote the English language and British culture in Lublin.
Published 13 March 2013