SEN Green Paper proposals: 1 week left to respond
Children's Minister, Sarah Teather, today calls on the public to make sure their voices are heard by responding to the Government's proposals to reform the education and health support for children with special educational needs (SEN) and disabilities.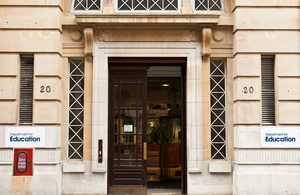 In the last week of the consultation the department particularly wants to hear from parents, young people, teachers and professionals who have experience of SEN and disabilities and are frustrated by the current problems.
Speaking at a visit to Stormont House special school Sarah Teather said:
It's vital that we hear from the people who will be most affected by the changes put forward in the SEN Green Paper. Parents who have battled to get the help their child needs, and professionals who feel services are letting down families, have one week left to let us know what they like and what they don't like. I urge them to make their voice heard.
Our proposals - for personal budgets and a combined education, health and care plan - are the biggest reforms to the SEN system in decades. I am determined that the reforms should really address the problems that parents have told us about. That's why I launched a Green Paper - so that changes happen in consultation with parents and the public.
And it's why it's also important that we test out our proposals, and involve parents in the process of putting our plans into practice. Next week we will be inviting local authorities to bid to become pathfinders piloting proposals for personal budgets, a single assessment process and education, health and care plans for children with more complex SEN.
But it is also important that we fund and extend the programmes that have been successful so far and that parents have told us they value. From this week we are inviting bids from voluntary and community groups and other organisations to develop a number of effective SEN and disability programmes - like early support, parent participation, and short breaks. I look forward to seeing some innovative approaches that really involve parents, professionals and communities and direct help where it is needed most.
The department is inviting bids from the voluntary and community sector and other organisation to deliver a number of SEN and disability programmes. There is more information available on the procurement section of the Department for Education's website.
Next week the department will be inviting bids from local authorities to pilot key proposals in the SEN Green Paper. Information about this will be available on the Department for Education's website.
DfE enquiries
Central newsdesk - for journalists 020 7783 8300
General enquiries - for members of the public 0370 000 2288
Published 23 June 2011