News story
Security Minister visits West Midlands following terror incidents
James Brokenshire has praised the bravery of Muslims in West Midlands and called for unity in the wake of recent terrorist incidents.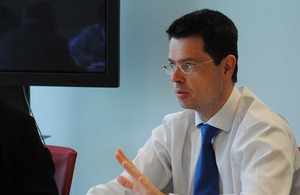 Security Minister James Brokenshire visited Birmingham yesterday evening to meet with those who have been directly affected by recent terrorist incidents in the West Midlands. He also took part in an Iftar (Ramadan fast breaking) event during his trip.
Reflecting on the visit, he said:
Last night I joined Muslims in Ghamkol Sharif Mosque as they broke fast – a sacred act and part of Ramadan, the holiest month in the Islamic calendar.

I have taken part in the ceremony before, but meeting the family of Mohammad Saleem in Small Heath just a few hours earlier, it seemed even more poignant and important.

Mr Saleem was brutally stabbed to death in April in what then seemed a motiveless attack. We now know the police are treating it as a terrorist incident.

We also know that they are linking the killing to the despicable attacks on Tipton's Kanzul Iman Central Jamia Mosque, Wolverhampton Central Mosque and Aisha Mosque in Walsall.
Demonstration of bravery
West Midlands Police have arrested and charged a man with these offences and he has appeared in court. Whilst this means I can't comment on the crimes he is alleged to have committed, I can comment on the bravery of the Muslims from the West Midlands who I met on my visit yesterday.

I have been struck by the dignity of Mr Saleem's family and by that shown by the representatives from the various mosques. They have been an example to us all through their resilience and with their calls for unity and calm.

However, there will inevitably be some fear and concern in the wider community and I can assure the people of Birmingham that action is being taken. Specialist advisers have been giving security advice to mosques, Islamic schools and community centres and there have been increased police patrols and community engagement plans.
Community togetherness
It will be for the courts to decide precisely what has happened in these recent events. But whatever their conclusions, this spate of incidents shows the importance of togetherness in all our communities. We must reject the propaganda of people who would seek to divide us – no matter what their political position. And we must remember that terrorism affects people of all backgrounds.

This government will not tolerate groups or individuals that seek to stoke up fear and hatred and undermine the common values that we all share.
Published 24 July 2013