Press release
Secretary of State's personal thank you to Martin McGuinness
Rt Hon James Brokenshire MP writes a personal thank you to Martin McGuinness acknowledging his commitment to reconciliation in Northern Ireland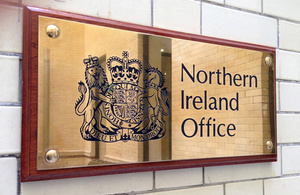 I am sorry that Martin McGuiness has announced his retirement from front-line political office. His contribution to the politics of Northern Ireland has been highly significant.
Martin's personal journey and the clear influence he has had on others in the Republican movement have helped shape political institutions founded on exclusively peaceful and democratic means. His commitment to reconciliation and understanding across communities has undoubtedly been a significant factor.
While at times we have had some firm exchanges, our discussions have always been on the basis of mutual respect. On a personal level, I've also appreciated the thoughtfulness and personal consideration he has shown to me.
I want thank him for his service during his nearly ten years as deputy First Minister and the role he has played in the various agreements that have helped to underpin Northern Ireland's continuing political development.
From our recent conversations, I know that Martin's political spirit and passion remain undiminished and I am saddened that his physical health has prevented him from continuing. I wish him the very best with his treatment and the time ahead.
Published 20 January 2017