Press release
Secretary of State visits Brussels
James Brokenshire is in the Belgian capital to ensure Northern Ireland's interests are protected and advanced.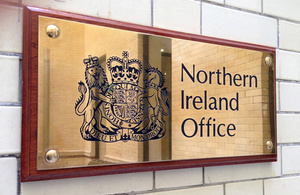 The Secretary of State is travelling to Brussels later today for meetings with leading EU figures to explain the unique economic, social and political context of Northern Ireland and to set out the UK Government's guiding principles that will underpin our approach in securing the best possible deal for Northern Ireland as we leave the EU.
The Secretary of State will hold a meeting with Sir Tim Barrow, the UK's Permanent Representative to EU, before embarking on a meeting with Permanent Representatives of EU countries. It is expected that the Secretary of State will use this meeting in particular to set out the importance of ensuring that Northern Ireland's unique circumstances are factored into any negotiations, with the hope that a new strategic partnership with the EU, including a bold and ambitious Free Trade Agreement, can be established.
He will also hold meetings with Danuta Hübner MEP, Chair of the European Parliament's Constitutional Affairs Committee and senior EU Commission officials. Mr Brokenshire will ensure Northern Ireland's voice is heard in relation to constitutional issues, as well as highlighting the significant contribution the EU has made to the political process and stability in Northern Ireland, including through the PEACE programmes.
The Secretary of State will also use the opportunity to meet MEPs, including those from Northern Ireland.
Speaking ahead of his visit, Rt Hon James Brokenshire MP said:
My visit to Brussels today comes at an important time. The UK Government will trigger Article 50 by the end of March, which will begin our negotiations to exit the European Union. We want to get the best possible deal for the UK and the best possible deal for NI within the UK recognising Northern Ireland's particular circumstances.
That is the prime reason for my visit - to ensure Northern Ireland's interests are protected and advanced. I plan to use my meetings as an opportunity to exchange views on the particular factors affecting Northern Ireland and the island of Ireland as a whole, as well as setting out the importance of working collaboratively to secure a positive outcome.
A key factor is the land border between Northern Ireland and Ireland. I am acutely aware that the ability to move and trade freely across the border is an essential part of daily life for people and businesses on both sides of the Border. That is why it is a priority for the UK Government to protect the Common Travel Area and continuing to see as frictionless a border as possible between Northern Ireland and Ireland.
I will be reinforcing this message during my discussions today.
The speech the Secretary of State delivered to the Institute of International and European Affairs (IIEA) can be found here.
Published 1 March 2017