Press release
Secretary of State visits Belfast Metropolitian College
On a visit earlier today Rt Hon Theresa Villiers MP reinforces the Government's core message from the Spending Review of building a stronger economy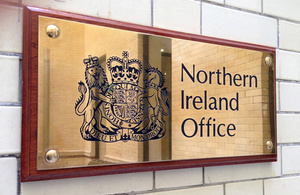 The Rt Hon Theresa Villiers MP, Secretary of State for Northern Ireland, this morning visited the Springvale Campus of Belfast Metropolitian College to view the new e3 high tech hub. The e3 facility is a model for the innovative use of new and emerging technologies and allows the college to focus on enhancing the employability of students, stimulate enterprise through business incubation and foster innovative approaches to economic development. The Springvale Campus also plays an important role in social and economic regeneration in North and West Belfast, drawing students from all parts of the community.
This follows the Chancellor's announcement in the spending review yesterday that the Northern Ireland Executive's capital budget would increase by 3.3%. This is in addition to the £100m temporary additional borrowing powers over 2010/15-2015/16 through the reinvestment and reform initiative (RRI), to fund education projects and shared housing, as set out in the Economic Pact; Building a Prosperous and United Community, published on 14 June.
Speaking after her visit, the Secretary of State said:
Building the economy means releasing the aspiration and talent of our young people to rise to the top through hard work and great education. The work being undertaken by Belfast Met here at the e3 is an excellent example of investment in our young people, the wider community and the economy. It is also an example of a shared space which is attracting young people from all sections of our society.
We have an ambitious vision for Northern Ireland - a genuinely shared society that is fulfilling its economic potential and strengthening the foundations for peace, stability and prosperity for the future.
The spending review announced by the Chancellor yesterday represented a fair settlement for Northern Ireland. The Government is taking the necessary measures to tackle the record deficit we inherited. Despite that NI will benefit from significant new money for capital spending, enabling the Executive to invest more in roads, hospitals and schools
The spending review demonstrates that this Government is determined to equip the whole of the UK to compete in the Global race, and build a stronger economy alongside a fairer society.
Published 27 June 2013