News story
Secretary of State statement following meetings with NI Political parties
Earlier today the Secretary of State held meetings with the Northern Ireland political parties at Stormont House in Belfast.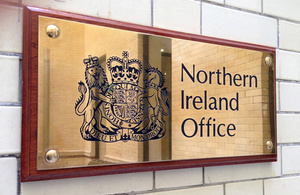 Following the meetings, Mrs Bradley said:
As the current impasse continues, public services are suffering. Local decision-making is urgently needed to address this.
The right way forward is stable, fully functioning, inclusive devolved government.
Last week I set out the Government's clear plan to bring that about and today was the first step in that process. I will continue engagement over the next days and weeks ahead of legislation to support the ongoing delivery of public services in Northern Ireland.
Devolved government is in the best interests of Northern Ireland and this is what I am determined to deliver.
Published 10 September 2018