Press release
NI election date set
Speaking to the assembled media at Stormont House, Secretary of State James Brokenshire has set an election date of Thursday 2nd March.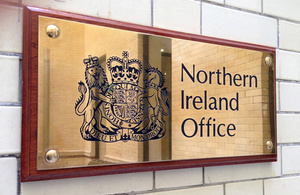 Secretary of State for Northern Ireland, Rt Hon James Brokenshire MP said:
The resignation of Martin McGuinness last Monday began a seven day period in which the post of deputy First Minister could be filled. This period expired at 5pm this afternoon without anyone having been nominated to the position.
I am now obliged, under relevant legislation, to propose a date for the next Northern Ireland Assembly election. In forming a view on a potential polling day, I have consulted the Chief Electoral Officer for Northern Ireland on operational matters and been informed by my ongoing dialogue with Northern Ireland's political leaders.
In the light of this, I propose that a draft Order in Council be brought forward shortly to set an election date of Thursday 2nd March and to dissolve the Assembly from the 26th January – meaning its last sitting day will be the 25th.
No one should underestimate the challenge faced to the political institutions here in Northern Ireland and what is at stake. While it is inevitable that debate during an election period will be intense, I would strongly encourage the political parties to conduct this election with a view to the future of Northern Ireland and re-establishing a partnership government at the earliest opportunity after that poll. This is essential for the operation of devolved government. And this means that all must remain open to dialogue.
The Government continues to stand firmly behind its commitment to the Belfast Agreement and its successors and our responsibilities to safeguard political stability here in Northern Ireland. We will continue to do all that we can to find a way forward and secure the continuation of devolved government.
And I will make a further statement in Parliament tomorrow.
Published 16 January 2017