Press release
Secretary of State pays tribute to Lord Bannside
Rt Hon Theresa Villiers MP paid tribute to Lord Bannside who died earlier today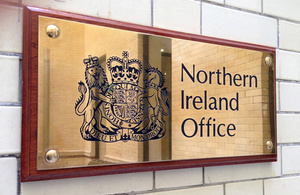 Ms Villiers said:
I was deeply saddened to hear of the death of Lord Bannside today. My sincere condolences go to Baroness Paisley, the Paisley family. Ian Paisley was a beloved husband and revered father. His passing will leave an irreplaceable gap in their lives.
For more than five decades Ian Paisley was a dominant figure in Northern Ireland politics through his booming oratory and enormous personality. He was unswerving in his commitment to Northern Ireland's position within the United Kingdom. Yet he was, by his own admission, first and foremost a preacher.
It is undoubtedly the case that he was often controversial in pursuing his goals. For now, however, it is right that we focus on the contribution he made to the Northern Ireland peace process, particularly in taking his party into government in 2007.
From his election in 1970 through his elevation to the Lords in 2010 Ian Paisley was a formidable Parliamentarian. He was also a tireless and highly effective MP on behalf of all his constituents. Ian Paisley had a deep reverence for Parliament and its traditions. Parliament has lost one of it great characters.
Published 12 September 2014