Press release
Secretary of State on 4 day visit to US east coast
Theresa Villiers is meeting key individuals in the US to strengthen UK-US relationships and maintain support for the NI Executive and political parties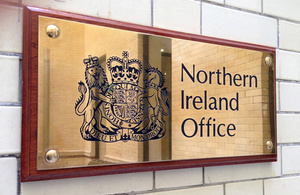 The Secretary of State for Northern Ireland, Rt Hon Theresa Villiers MP, today began a 4 day trip to the US east coast. During visits to Washington DC, New York and Boston she will meet a number of senators, congressmen, senior government officials and academics, as well as representatives from the wider Irish-American community.
The Secretary of State will use her visit to strengthen vital UK-US relationships and encourage the US Administration to maintain support for the Northern Ireland Executive and political parties over the coming months in finding resolutions to issues including parading, flags and the past.
Speaking ahead of her visit, Ms Villiers said:
I very much look forward to meeting key individuals who have taken a special interest in Northern Ireland over many years.
Successive US administrations, along with friends on Capitol Hill and of course the huge Irish-American community have all played a crucial role in driving forward the Northern Ireland peace process and supporting us on the path to a better future.
The assistance and goodwill of those I will be meeting this week is still vital as we face key challenges for Northern Ireland's future peace and prosperity. During my visit this week I will be seeking their continued support in helping to overcome community divisions and bring about economic renewal.
In Washington, Ms Villiers will meet Paula Dobriansky, former US Special Envoy to Northern Ireland, and Congressmen Ritchie Neal and Peter King. She will also be speaking at an event at American University.
In New York she will meet the New York State Comptroller Tom Dinapoli, and the outgoing Chairman of American Ireland Funds Loretta Brennan Glucksman. She will also tour Fordham University's radio facilities and meet its Irish production staff.
The final leg of the programme in Boston will see the Secretary of State meet State Senate President Theresa Murray and the Mayor-Elect of Boston, Rep Martin Walsh. She will also hold a question and answer session on 'A shared future: Economic prosperity and development' with students from Boston College.
Published 19 November 2013