Secretary of State for Wales praises aviation apprentices
David Jones attends GE Aviation Wales apprentice graduation ceremony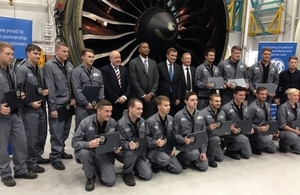 Secretary of State for Wales, David Jones MP has congratulated a group of apprentices from GE Aviation Wales who have successfully completed their apprenticeships at the aircraft overhaul facility in Nantgarw.
The 20 apprentices, who have completed the apprenticeship programme, were recognised at a graduation ceremony held at the site and attended by the Secretary of State for Wales, David Jones.
Having qualified to become aircraft engineers, the graduates have secured employment at the facility and will support the four main engine types which GE Aviation specialises in servicing.
As part of the apprenticeship scheme, GE works in partnership with Coleg Y Cymoedd, formally Coleg Morgannwg, to create the work-based Welsh Government apprenticeship programme. Throughout the three year programme, apprentices rotate across the business to give them a broader understanding of how the company operates, as well as developing the skills needed for them to achieve their formal qualification.
The apprenticeship combines college and work- based training up to NVQ Level 3 and a recognised Technical Certificate plus Key Skills.
Secretary of State for Wales, David Jones said:
Apprenticeships play a vital role in keeping the UK aerospace sector at the forefront of the industry worldwide. The skills and capabilities these apprentices are developing today will help drive growth across the UK aerospace industry in the years ahead.
The young people I met today have a wealth of fresh ideas and skills to offer, and apprenticeships can offer not only a period of valuable work experience, but the start of a life of learning. They have had the opportunity to work at what is one of the largest aircraft maintenance facilities in the world. I wish them all well for the future.
As part of their apprenticeship, apprentices are offered the opportunity to participate in the Duke of Edinburgh's Award. The scheme encourages participation in community volunteering, focuses on team and character building whilst developing attributes including confidence and communication skills. Currently, GE is the only company in Wales to support apprentices through this initiative.
Site Leader at GE Aviation Wales, Mike Patton said:
We are delighted to be celebrating the success of our apprentices. The apprenticeship is a demanding scheme, which requires a wealth of skills and technical knowledge. During the last three years, they will have built a strong understanding of the business, putting them in good stead for their future career opportunities. I would like to congratulate them all; they should all feel extremely proud of their achievements.
Over the last two decades we have established a robust apprentice programme at GE Wales. We firmly believe that apprenticeships are the building blocks of creating a sustainable future for the business and a fantastic way to develop young talent in Wales.
For further information, please contact:
Emma Breeze, PR & Communications Leader at GE Aviation Wales on 01443 847 291 / 07827 879 522 Emma.Breeze@ge.com
Picture courtesy of Stephen Hillcoat.
Published 14 October 2013