Secretary of State for Defence visits the Royal Navy in Bahrain
During the visit, Dr Liam Fox, accompanied by Chief of the Defence Staff, Air Chief Marshal Sir Jock Stirrup, and Her Majesty's Ambassador Mr…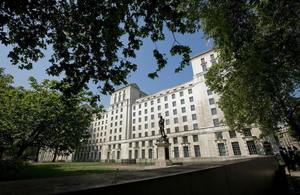 During the visit, Dr Liam Fox, accompanied by Chief of the Defence Staff, Air Chief Marshal Sir Jock Stirrup, and Her Majesty's Ambassador Mr Jamie Bowden, met with Vice Admiral Bill Gortney, US 5th Fleet Commander, Commodore Tim Fraser, UK Maritime Component Commander, and Commodore Chris Richards, Commander Combined Task Force Iraqi Maritime, who gave a detailed brief on the full scale of the operational roles the Royal Navy plays in the wider Gulf region. These include maritime security operations, counter-piracy and training with regional navies.
The visitors toured the UKMCC HQ Operations Room and met the personnel working there:
Dr Fox asked staff a number of questions relating to their specific roles," said Captain Mark Titcomb, UKMCC Chief of Staff.

He was impressed with the disproportionate level of effect we deliver in relation to the number of people we have and was interested in knowing the key issues we face ranging from engineering to logistics support.
Dr Fox also visited RFA Lyme Bay, which is one of the ships supporting the Royal Navy fleet in the Gulf.
He addressed an audience from the Royal Navy ships based in Bahrain and staff from the base, thanking those serving, on behalf of the British public, for helping to protect the UK's interests in the region.
Commodore Fraser said:
This was a very welcome visit from the new Secretary of State for Defence and it presented us with an opportunity to emphasise the Royal Navy operations in this part of the world. Dr Fox is very aware of the issues faced here and the challenges ahead.
The visit to Bahrain came after Dr Fox had been to Afghanistan to meet British troops, including Royal Navy personnel.
The tour provided the opportunity for the Defence Secretary to see how integrated the British military has become, not just with its own forces but with the many foreign military working in the region.
Published 25 May 2010