Secretary of State for Defence visits Saudi Arabia
The Secretary of State for Defence is the first Cabinet Minister of the new Coalition Government to visit the Kingdom and his programme included…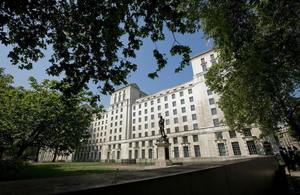 The Secretary of State for Defence is the first Cabinet Minister of the new Coalition Government to visit the Kingdom and his programme included an insight into the training given to Saudi pilots by the RAF.
Dr Fox said:
I have been a long and vocal supporter of the enduring relationship between Britain and Saudi Arabia. A relationship built on close historical, governmental and personal ties. Our military co-operation has a proud and important history and is a pillar of our bilateral relationship, which is better today than ever.

The industrial relationship between our two countries is strong and growing and I am honoured to be the first Minister in the new Coalition Government to make this important visit.
The Secretary of State had meetings with a range of government ministers to discuss issues including stability and security in the Gulf and the wider Middle East, the situation in Afghanistan, industrial relations between the two Kingdoms, and how Iran can be encouraged to be transparent and co-operative within the region and with the West.
Dr Fox continued:
I am grateful to the Saudi Government for hosting the UK Government in what have been full and frank discussions. This visit has been important for the UK's continued security, which is linked to security in the Middle East, and the benefits that the Kingdom of Saudi Arabia delivers to the UK economy.
The Kingdom of Saudi Arabia signed an agreement in 2007 for the supply of 72 Typhoon aircraft to the Royal Saudi Air Force worth £4.43bn.
This defence cooperation programme, which the Saudis have named the Salam Project, is supported by substantial weapons, infrastructure, training and logistics support packages from the UK.
The first 12 Typhoons have been delivered and have already built up extensive flying hours. Dr Fox visited Taif airfield to see the aircraft first hand. He said:
The Typhoon's capability as an agile, high performance multi-role combat aircraft provides air superiority and ground attack capability. The UK pilots are sharing their knowledge and experience with their Saudi counterparts for the benefit of both the UK and Saudi Arabia.
Published 27 September 2010