Press release
Secretary of State condemns attack on Belfast City Centre
Speaking earlier this morning following the discovery of a device in Belfast City Centre, the Rt Hon Theresa Villiers MP commented: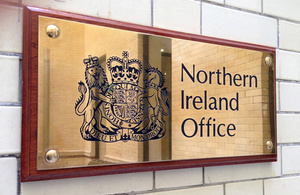 This was a reckless and callous attack on the people of Belfast which could have put many lives at risk. Families have been forced out of their homes and commuters delayed in their journey to work by this attempt to attack ordinary people going about their daily business.
As they start the festive season, local businesses and the wider economy are being held to ransom by the actions of these terrorists. They must stop. The people behind this attack want to drag Northern Ireland back to the past. They are deliberately seeking to damage the efforts of the Government and the NI Executive to promote growth and jobs in Northern Ireland and attract tourists and investors. Northern Ireland deserves so much more – there is no support in the community for the disgraceful activities of these terrorist groups.
I want to assure everyone that this Government takes the threat very seriously and are committed to supporting the PSNI in tackling the threat from wherever it emanates.
I would appeal to anyone with information on this crime to contact the police.
Published 25 November 2013