Press release
Secretary of State calls for violent protests to stop
Speaking on Friday afternoon, Theresa Villiers called on all those with influence to encourage calm this weekend.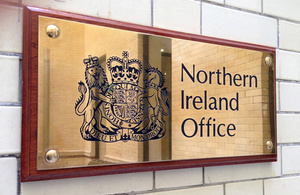 The Secretary of State for Northern Ireland Rt Hon Theresa Villiers MP said:
"I understand that many people strongly disagree with recent Parades Commission determinations. But however they feel, there can be no justification for lawless behaviour.
"People who break the law should be in no doubt that there will be arrests and prosecutions. And those who are convicted risk prison.
"It also has a serious impact on the reputation of Northern Ireland as we try and compete in the global race for investment and jobs.
"The violent protests must stop. I once again call on all those with influence, including the Orange Order, community leaders and politicians to help defuse tensions and ensure this weekend is peaceful."
Published 19 July 2013