Press release
Second Youth Jobs Summit heads to North Wales
The issue of tackling youth unemployment in north Wales will come under the spotlight at a summit convened by the Secretary of State for Wales, David Jones in Wrexham today (12 July).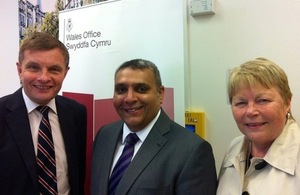 The second event of its kind in Wales this year, the North Wales Jobs Summit will focus on promoting youth employment in the SME sector and the support that is available for young people in Wales.
An audience of more than 50 stakeholders from government, local government, business bodies, local firms and employability organisations are expected to attend the event at Yale College.
Delegates will engage in discussions about how to offer more work experience, internships and apprenticeship opportunities to young people. They will also hear from young people who will relay their own experiences of finding employment.
Secretary of State for Wales, David Jones said:
Job creation is the most pressing item on the UK's economic agenda. The creation of jobs for young people in Wales is one of the most pressing items on mine.
The businesses attending this Jobs Summit are here because they care about job prospects for young people in north Wales. We need to show employers that through initiatives such as our work experience and apprenticeship schemes we are helping create a generation which is eager, skilled and better prepared for the world of work.
By working together across government and across business, we can help Wales's young people into work and ensure they have the opportunities that we all believe they firmly deserve.
The North Wales Jobs Summit will also feature contributions from Jobcentre Plus on how to help young people get the experience essential to gaining employment.
Martin Brown, Work Services Director for Jobcentre Plus in Wales, said:
Since the first Jobs Summit in February, youth unemployment in Wales has reduced by around 12%. That's over 3000 additional young people in work contributing to the growth of businesses across Wales.
This has only been possible because employers have recognised the potential of young people and have worked with Jobcentre Plus and other areas of the public sector to help jobseekers get their first foot on the ladder. There is still a lot to do but there is practical help available to employers and those looking for work. This Jobs Summit provides a great opportunity to build on what we have achieved since February.
Key north Wales employer, Airbus, will also be present at the event. The company has enrolled more than 4,000 apprentices into a variety of schemes across the UK over the last three decades. The Broughton site recruited 67 apprentices in 2012 and they are expecting to have places for over 70 undergraduate apprentices available in 2013.
The First Minister, Carwyn Jones, said:
Tackling youth unemployment is a key commitment for the Welsh Government. We are extremely proud of our Jobs Growth Wales programme, which is designed to help young people who are job ready but have had difficulty securing employment. By providing these young people with a job opportunity for six months we are helping them to gain the additional experience needed to secure employment. Over 7,000 job opportunities have been created over the past 14 months.
We currently offer a number of initiatives to encourage more businesses to take on apprentices, who we believe fuel the future essential skills base of our nation. We have committed an additional £40million to expand our apprenticeship programme in Wales, with an emphasis on Higher Level Apprenticeships.
Young people are vital to our future economy. It is our responsibility to act now to do all we can to address the issue of youth unemployment.
Gary Griffiths, Head of Apprenticeships for Airbus in the UK said:
At Airbus, our apprentices are the future of our business and they are embarking on a career where the sky is quite literally the limit.
We are seeing an increasing number of school leavers consider apprenticeships as an alternative to university and a route into long term, stable careers. The Airbus undergraduate apprenticeship offers paid employment experience while studying for a degree in aeronautical engineering. It is hard work but those who successfully complete the three year programme could find themselves on a fast track to a management role with us, just like our current senior managers, many of whom started out as apprentices.
The first Jobs Summit was held at the Lysaght Institute in Newport on 4 February 2013.
NOTES TO EDITORS:
For further information, please contact:
Wales Office Communications Team: Sahar Rehman (020 7270 1362)
Department for Work & Pensions: Ann Rimell or Steve Milne (029 2058 6098/6097)
*The Work Programme provides tailored support for claimants who need more help to undertake active and effective job-seeking. Participants receive support to overcome barriers that prevent them from finding and staying in work. It is delivered by DWP contracted service providers who have been given complete autonomy to decide how best to support participants while meeting their minimum service delivery standards
*The Youth Contract is a package of support worth almost £1billion to help young unemployed people to prepare for work and find a job. Over three years from April 2012 the Youth Contract will provide nearly half a million new opportunities for young people and will enhance the get Britain working measures with an increased focus on young people.
Published 12 July 2013
Last updated 12 July 2013
+ show all updates
Added translation
First published.