Second Sea Lord visits HMS Ocean
The Second Sea Lord, Vice Admiral Charles Montgomery, has visited HMS Ocean in the Mediterranean, where she has recently been supporting the enforcement of the UN Security Council Resolution to protect Libyan citizens.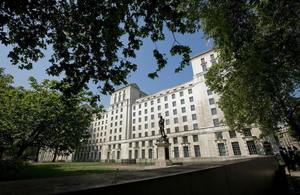 Vice Admiral Montgomery, who holds responsibility on the Navy Board for personnel and training, arrived on board HMS Ocean for a two-day visit in one of the ship's Lynx Mk7 helicopters. He was greeted by the Commander of the United Kingdom Task Group, Commodore John Kingwell, and the Commanding Officer of HMS Ocean, Captain Andrew Betton.
During his time on board, the Vice Admiral was given an insight into the Apache operations that HMS Ocean and her embarked Army Air Corps squadron have been conducting, toured the ship and talked with many members of the ship's company.
And, in a popular move, he made himself available throughout his time on board to answer questions on personnel and training issues, as well as wider defence matters.
After a sustained period conducting missions in support of the NATO operation to protect Libyan citizens, HMS Ocean, the Royal Navy's largest warship, has just returned to sea after completing a hugely successful maintenance period in Souda Bay, Crete.
This essential repair and maintenance programme, supported by military, civilian and Babcock Marine personnel from Devonport Naval Base, sees the ship ready in all respects to return to the coast of Libya to continue in whatever role is necessary to see the job finished.
Captain Betton said:
I am immensely proud of all of the sailors, soldiers, airmen and marines serving in HMS Ocean. Everybody has worked tirelessly since we sailed in April to contribute to our evolving mission, so having the opportunity to demonstrate our professionalism and brief the Second Sea Lord on this unique ship's capability was an honour.
HMS Ocean left the UK in April as part of the UK's Response Force Task Group to conduct a series of pre-planned amphibious exercises in the Mediterranean, known as Cougar 11.
With the escalating events in Libya, the UK Government took the opportunity in May to retask one of the most flexible ships in the Royal Navy's inventory and ordered HMS Ocean to support the enforcement of the UN Security Council Resolution to protect Libyan citizens.
In addition to HMS Ocean, the other Royal Navy and Royal Fleet Auxiliary (RFA) ships taking part in this operation currently include the destroyer HMS Liverpool, the mine countermeasures vessel HMS Bangor and the support ship RFA Fort Rosalie.
Published 20 September 2011