Press release
Second phase of improvement work at A19 Howdon Interchange to begin
Improvement work at Howdon Interchange on the A19 will enter its second phase on Monday (15 June), reducing congestion and improving safety for drivers in North Tyneside.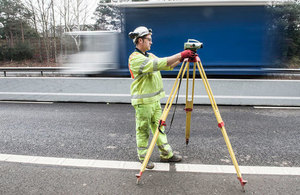 Work is taking place to install part-time traffic signals, renew road signs, and improve road markings at this important junction. The work will be carried out overnight between 8pm and 6am, Monday evenings through to Saturday mornings, and is planned to be completed by Tuesday 14 July.
Highways England Project Manager, Andrew Brown, said:
We're pleased the second phase can begin to improve Howdon Interchange, work that will reduce congestion and improve safety. We ask that drivers be aware of the lane closures and take care travelling through the roadworks.
During the work it will be necessary to install temporary traffic management on the 1 mile stretch of the A19 from Silverlink Roundabout to Howdon Interchange.For the duration of the work the southbound A19 will be reduced to a single lane overnight.
During the final week of work the interchange and local approach roads will be closed at off peak times during the day from 9.30am to 3.30pm (Monday to Friday) and traffic will follow a clearly signed diversion route.
At stages during the work the southbound exit and entry slip roads, northbound entry slip road and part of the roundabout will also be closed. Suitable diversion routes will be put in place when necessary during the work.
During the southbound exit slip road closure drivers will exit the A19 at the A19/A1058 Silverlink Interchange onto the eastbound A1058, continuing eastwards for 1km before taking the eastbound exit slip road to the Norham Road junction. Here, traffic will turn right onto Norham Road and head south until reaching the roundabout with the A193, where traffic will take the fourth exit onto the A193 and continue straight until reaching the A19 Howdon Interchange.
During the northbound entry slip road closure diverted traffic will follow the reverse of the southbound diversion detailed, joining the A19 northbound carriageway at Silverlink Interchange.
During the southbound entry closure traffic will be diverted along the northbound and southbound A19 via the Silverlink Interchange. During the partial closure of the roundabout traffic will be diverted along the northbound and southbound A19 via the Silverlink Interchange.
General enquiries
Members of the public should contact the Highways England customer contact centre on 0300 123 5000.
Media enquiries
Journalists should contact the Highways England press office on 0844 693 1448 and use the menu to speak to the most appropriate press officer.
Published 3 June 2015