Second healthcare worker transported to UK for Ebola monitoring
Precautionary action taken, 2 similar incidents are unrelated.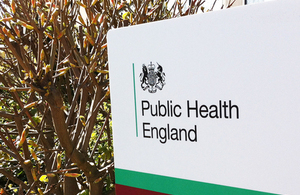 Public Health England (PHE) can confirm that a second UK military healthcare worker has been transported back to England, following likely exposure to the Ebola virus via a needle-stick injury when treating a person with Ebola in Sierra Leone.
The healthcare worker arrived in the UK on Monday 2 February 2015 and has been admitted to the Royal Free Hospital in London for assessment. At this time, they have not been diagnosed with Ebola and do not have symptoms.
Professor Paul Cosford, PHE's Director for Health Protection and Medical Director, said:
We can confirm that all the appropriate support is being offered to this individual and that strict protocols have been followed to transfer them back to the UK. We would like to emphasise that there is no risk to the general public's health. Our thoughts are with both of the healthcare workers, and their families, affected at this time.
Minister for the Armed Forces Mark Francois, said:
This is entirely a precautionary measure and our priority is the wellbeing of the individual involved. Their family has been informed and will receive all possible support from the government.

Although we have had 2 similar incidents within a short space of time both appear to be unrelated. Our personnel receive the highest standard of training and briefing prior to deployment, including on the use of the specialised personal protective equipment.

On a visit to the country before Christmas I witnessed first-hand the bravery and commitment of the personnel who are doing such a fantastic job in Sierra Leone. Their efforts are deserving of the highest praise and we wish all the best for their 2 colleagues who are now in the UK.
Further information
The second individual arrived back in the UK on an Royal Air Force (RAF) flight today (Monday 2 February 2015), and has been taken to the Royal Free Hospital for clinical assessment. They will be monitored for the remainder of their 21 days incubation period, in line with PHE's standard procedures for returning healthcare workers. The individual was exposed to the virus in a frontline care setting in Sierra Leone, via a needle-stick injury while treating an individual diagnosed with Ebola. We would request the patient's confidentiality is respected at this time.
The Royal Free has capacity to assess and monitor this individual, as well as the healthcare worker admitted on Saturday 31 January. Decisions on the immediate and ongoing care for both individuals will be made by the clinical team at the Royal Free Hospital. Any further communications regarding the welfare and clinical management of these individuals will be made by the Royal Free Hospital.
Public Health England (PHE) is responsible for monitoring the health of individuals returning to the UK from Ebola affected countries. The purpose of PHE's returning worker scheme is to enable a consistent follow-up of workers on their return to the UK, to protect their health and that of the wider public. It operates in parallel to the screening arrangements that are in place for all travellers both on exit from the affected countries and on entry at key ports in the UK.
PHE exists to protect and improve the nation's health and wellbeing and reduce health inequalities. It does this through advocacy, partnerships, world-class science, knowledge and intelligence, and the delivery of specialist public health services. PHE is an operationally autonomous executive agency of the Department of Health. www.gov.uk/phe Follow us on Twitter @PHE_uk
Published 2 February 2015