Press release
Second cohort of NHS volunteers gear up to fight Ebola in West Africa
Britain is leading the international response in Sierra Leone and these NHS heroes have a key role to play.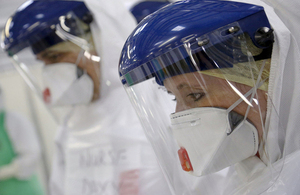 A further 25 NHS staff from across the UK are deploying to Sierra Leone to join Britain's fight against Ebola, International Development Secretary Justine Greening announced today.
Following 5 days of intensive training near Worcester the group will travel to the Sierra Leonean capital of Freetown on Saturday morning. Their rigorous pre-deployment training, run by RedR UK, has included working in a replica treatment centre, learning about the different stages of assessment and treatment of the disease and, crucially, how to protect themselves using personal protective equipment.
After arriving in Sierra Leone they will complete further in-country training and acclimatisation, which will include dry-runs in the British-built Ebola treatment centres where they will be working.
Members of the group, which includes GPs, nurses and clinicians, will then begin work setting up procedures and diagnosing and treating people who have contracted the deadly virus.
Justine Greening said:
The British fight against Ebola in West Africa is already paying dividends. More than 600 treatment and safe isolation beds are now operational, thousands of healthcare workers have been trained, and the first of 3 new labs is up and running, significantly boosting the capacity of the country to test blood and swab samples.
None of this would have been possible without the grit and determination of the military personnel, scientists, healthcare and aid workers from across the UK who have travelled to Sierra Leone to defeat this terrible disease.
But to beat Ebola we must keep up the fight. That is why we are continuing to deploy teams of experienced and dedicated NHS doctors and nurses, who will provide essential care and treatment for the sick. These NHS heroes will play a vital role in our efforts to take this disease on at source.
Health Secretary Jeremy Hunt said:
I want to thank the brave NHS volunteers who are heading to Sierra Leone tomorrow to help in the fight against Ebola. They embody the values at the heart of our health service, and their expertise and dedication is second to none.
Professor Tony Redmond, Head of UK-Med said:
The actions of these selfless volunteers in going and the actions of their colleagues and managers to release them and cover for their duties is testimony if ever there was to the altruism that lies at the core of the NHS. I am very proud of them all".
Hannah McReynolds, Staff Nurse, Leicester who will be travelling to Sierra Leone this weekend said:
As soon as I heard NHS staff were volunteering I didn't hesitate to apply. I feel lucky to have been born into a society which has provided me with free education and healthcare. I feel I should give back. I feel privileged to have been selected to be part of this team. The support and team work is already evident. This is a global issue and I am proud of my colleagues who have volunteered and want to encourage others to do so.
The NHS volunteers departing tomorrow are the second group to be deployed by the UK government and will join an initial cohort of more than 30 NHS staff who arrived in Sierra Leone on Sunday 23 November.
These deployments are coordinated by UK-Med, which manages the provision of NHS health workers to international crises, and funded by DFID. They will work in treatment centres built by British Army Royal Engineers and funded by the Department for International Development and deployed across Sierra Leone according to staffing needs.
Notes to editors
The deployment of NHS volunteers is part of wider UK efforts to control, contain and defeat Ebola. So far the UK has committed £230 million to the response in Sierra Leone. As part of this, the UK is opening 6 Ebola treatment centres. These will open on a phased basis to ensure safety for patients and staff, but everyone involved will be working tirelessly to reach full capacity as soon as possible. Once they reach full capacity, the Ebola treatment centres will bring the total number of DFID-supported beds to more than 700.

The treatment centres will be staffed by a mix of local, international and NHS volunteer health professionals and run by a variety of organisations including GOAL, International Medical Corps, Medicos del Mundo, Aspen and Emergency. Cuba, Norway, Australia, New Zealand, and now Denmark have committed to providing significant numbers of health workers to staff UK treatment centres, alongside the NHS volunteers.

The pre-deployment training is run by RedR UK, an international charity which specialises in training for humanitarian aid workers, as well as for communities hit by disaster, and other responders.

The UK has committed £230 million to the Ebola response in Sierra Leone. This includes:
Supporting more than 700 treatment beds to help up to 8,800 patients over 6 months;

Shoring up the country's stretched public health services to help contain the disease. This includes vital supplies such as chlorine and protective clothing for thousands of health workers;

Opening up to 200 Community Care Centres where people who suspect they might be suffering from the disease can seek swift and accurate diagnosis and appropriate care;

Building, running and staffing three new labs in Sierra Leone to help check the spread of the deadly Ebola virus and quadrupling the number of tests that can be carried out every day;

Supporting charities on the ground to work with people to agree practices which will allow them to honour their friends and relatives, while ensuring bodies are safely buried;

Doubling the number of burial teams in Freetown – and providing over 100 across the country. With UK support IFRC burial teams in Sierra Leone's western area, which accounts for approximately a third of the country's population, are now burying 100% of reported bodies within 24 hours;

Supporting the Government of Sierra Leone's command and control capability – at the national level through support to the National Emergency Response Centre (NERC), and supporting the roll out of District Level Command Centres (DCCs) in high transmission areas;

£5 million aid match for the Disasters Emergency Committee (DEC) appeal on the Ebola outbreak; and

More than 800 Ministry of Defence personnel have been deployed to help with the establishment of Ebola Treatment Centres and the Ebola Training Academy. This includes the deployment of RFA Argus and three Merlin helicopters, which arrived in Sierra Leone on 30 October.
General media queries
Follow the DFID Media office on Twitter - @DFID_Press
Published 5 December 2014