Second Astute Class submarine officially named
The 7,400 tonne vessel was named by Lady Anne Soar, wife of Admiral Sir Trevor Soar and the ceremony was attended by First Sea Lord, Admiral…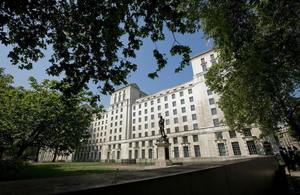 The 7,400 tonne vessel was named by Lady Anne Soar, wife of Admiral Sir Trevor Soar and the ceremony was attended by First Sea Lord, Admiral Sir Mark Stanhope.
The next stage will be for Ambush to be rolled out of the giant build hall and lowered into the water for the fitting out to be completed during 2011.
Minister for Defence Equipment, Support and Technology, Peter Luff, said:
The launch of the second of the seven immensely powerful Astute class boats marks another milestone in our programme to equip the Royal Navy with the most modern and effective equipment available.

It also demonstrates the government's commitment to maintaining the skills required to build such boats in the UK, sustaining thousands of jobs.
The seven Astute Class boats planned for the Navy are the largest and most advanced attack submarines ordered by the MOD, with improved firepower and communications, and the ability to operate stealthily for extended periods.
The crew also benefit from greatly improved accommodation and facilities, with individual bunks for up to 100.
The boats will be able to undertake a wide range of tasks in support of military operations worldwide, including deploying Tomahawk cruise missiles and intelligence gathering.
Refuelling of the reactor is not required during the boat's 25 year planned lifespan.
The First Sea Lord, Admiral Sir Mark Stanhope, said:
This is a great day for the Royal Navy. Nuclear-powered attack submarines like Ambush make an unrivalled contribution to the defence of the UK and our overseas interests.
"These new stealthy and cruise-missile equipped boats provide global reach and endurance, powerful anti-submarine and anti-surface ship capability as well as protecting the nuclear deterrent, land attack and intelligence gathering."
The submarine is expected to leave Barrow on initial trials by early 2012. Two other boats, Artful and Audacious, are also under construction at Barrow-in-Furness and early work is under way on a further two.
The Government commitment to seven Astute class submarines was confirmed in the Strategic Defence and Security Review in October 2010 and construction continues at Barrow.
The first of class, HMS Astute, was commissioned into the Royal Navy in August 2010 and has been undertaking trials from her base at Faslane.
Published 22 December 2010