Searching for IEDs - one of the most dangerous jobs in Helmand
Sapper Vasilis 'Taz' Tzanetis is the lead searcher in an elite team of Royal Engineers on 24-hour call to seek out improvised explosive devices (IEDs) in Helmand province.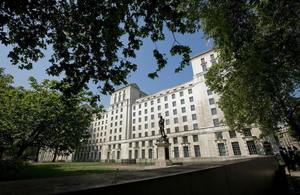 This is Sapper Tzanetis's second tour of Afghanistan as part of the specialist Royal Engineers Search Team (REST). He is the first person into a high-threat area, completing the initial fingertip searches and detection equipment sweeps. He has one of the most dangerous jobs in theatre. He said:
I was really worried about coming to Helmand. You hear the news and everyone tells you to be careful and keep your head down. We are on permanent standby for 10-liner support [reaction to IED find]. That doesn't mean we're stood in armour all the time - we live a normal life until the runner arrives from the ops room to summon the team, then we can be out within 20 minutes.
When a UK patrol believes they may have found an improvised explosive device in their path they call in the REST. Sapper Tzanetis and his team move forward by foot, vehicle or helicopter and clear the area. This allows both troops and local Afghans to move once again without fear of injury once the device has been located and destroyed.
Insurgents in Afghanistan have become more and more cunning in hiding all the constituent parts of IEDs. The infantry unit who call in the REST may have found the pressure plate (trigger), the battery pack (source of power) or the explosive itself, but no-one is sure. Before the device can be destroyed it must be located. Further, there may be other IEDs in the area which have not yet been discovered. But IEDs aren't the only things posing a threat to Sapper Tzanetis and his team:
We've all got rounds down, so you need to be good at your basic infantry skill," Sapper Tzanetis continued. "It isn't fire and manoeuvre through Aldershot, but you really need the basics. You need to have the confidence and the courage to stick your head up above cover and return fire.
The REST will move into the area, and, using a variety of high tech detection equipment and their eyes and fingertips, will locate and mark deadly improvised explosive devices in order for the bomb disposal experts to move forward and dispose of the devices once the area is 'safe':
I don't think any amount of training could have prepared me for the sheer heat," said Sapper Tzanetis. "Getting to devices and searching them out means climbing over 20-foot (6m) compound walls with 40kg or more of kit in 40 degrees C plus conditions - it's pretty tough, but that is everyday life out here.

Besides the obvious items such as helmet, body armour and weapon we also carry a minimum of four hours of water and the specialist search equipment including extra batteries, smoke, spray paint and spare ammunition. Depending on how long we're out for, this can increase to even more weight in the form of water, batteries, a sleeping system and 36 hours of rations.

It's a good feeling to say I'm a member of a Royal Engineers Search Team. Infantry call signs really appreciate what we do. The job itself is undeniably a very dangerous task, but I'm confident about doing my job anywhere in theatre. My team is great and we all share experiences and work together to look after each other. There is a real threat from insurgents targeting us as we search for devices; it's daunting but it's our job.
Published 10 August 2011