Search and Rescue Flight marks 9,000th rescue
Whilst Team GB were setting records at the London Olympics, the RAF Search and Rescue team of 'C' Flight, 22 Squadron, based at RAF Valley, reached their own milestone on 'Olympic Super Saturday' by completing the Flight's 9,000th rescue.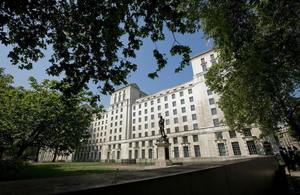 A 29-year-old surfer suffered a head injury whilst surfing at Hell's Mouth near Abersoch, off the Lleyn Peninsula in North Wales, on the afternoon of Saturday 4 August.
The C Flight Sea King helicopter was called in from a training sortie with NHS personnel in the local area by a Coastguard team who were treating the casualty.
Winchman paramedic Flight Sergeant Chas McDonagh and Doctor Linda Dykes took the decision to transfer the casualty, who was thought to have a potential spinal injury, to Bangor Hospital by Sea King.
The Sea King landed in a field near the beach after being directed to the landing site by the Coastguard using smoke flares, and a local farmer assisted by using his flatbed tractor to convey the casualty to the aircraft.
The rescue itself was an example of multi-agency co-operation involving the Coastguard, the North Wales Ambulance Service and RAF Search And Rescue.
The casualty was later discharged from hospital.
The duty crew carrying out C Flight's 9,000th rescue on Olympic Super Saturday were Flight Lieutenant Jon Ewer, Flight Lieutenant Richard Smith, Flight Sergeant Chas McDonagh and Sergeant Mike Boisser-Wyles.
Published 14 August 2012